3 April 2018, New Delhi
Amrita Vishwa Vidyapeetham has emerged as the 8th best university in the National Institutional Ranking Framework (NIRF) Ranking 2018 for Indian Universities, that was released by Prakash Javadekar, the Minister of Human Resource Development.
"This is a testament to the tradition of academic excellence, outstanding faculty and world-class infrastructure that Amrita Vishwa Vidyapeetham is known for since its inception in 2003" said Dr P Venkat Rangan, Vice Chancellor, Amrita Vishwa Vidyapeetham.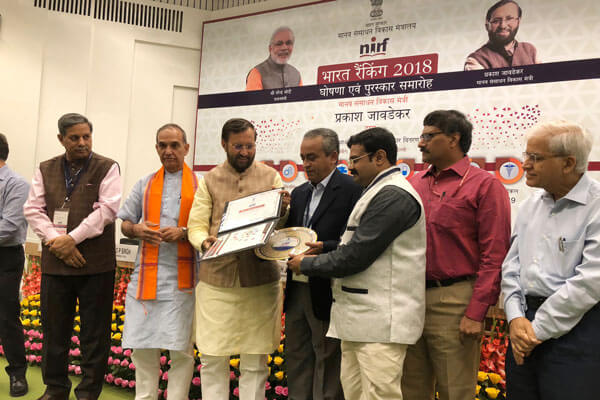 On behalf of AMRITA, Dr Sasangan Ramanathan, Dean-Engineering and Prof. Prashant R.Nair, Vice-Chairman, Internal Quality Assurance Cell (IQAC) received the ranking certificate from the Union HRD Minister, Sh. Prakash Javadekar.
Amrita Vishwa Vidyapeetham, which is only 15 years old, has been ranked the 8th best university in India behind well-established public institutions.
Amrita Vishwa Vidyapeetham, with 20,000 students and 1800+ faculty (including about 200 international faculties), is a multi-campus, multi-disciplinary research university that is accredited with 'A' grade by NAAC and also ranked high by international ranking agencies such as THE, QS, etc. The University is currently spread across five campuses in three states of India – Kerala, Tamil Nadu, and Karnataka, with the University headquarters at Coimbatore, Tamil Nadu.
The foundation stone for its upcoming campuses at Delhi and Amaravati have been laid recently.
Amrita Vishwa Vidyapeetham continuously collaborates with top US institutions including Ivy League universities and top European universities for regular student exchange programs and has emerged as one of the fastest growing institutions of higher learning in India.