22 – 28 March, Malaysia-Singapore Yatra 2018
Amma's programs were a resounding success with venues overflowing with devotees and admirers in Kuala Lumpur, Penang and Singapore.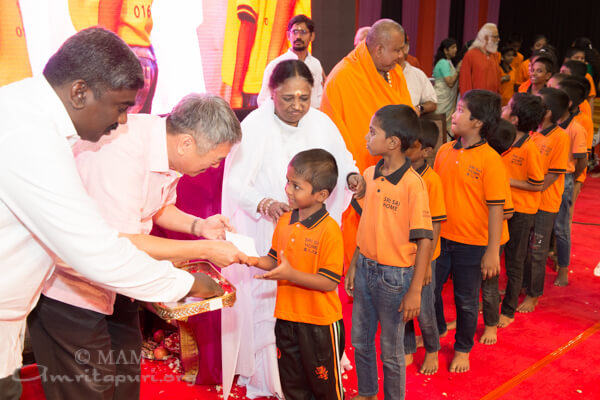 Highlights of the weeklong journey included new and expanded charitable initiatives being rolled out at programs in all three places, including educational scholarships for young students suffering from cancer in Malaysia; an additional 100 scholarships for underprivileged students in Singapore; construction of a water catchment pool to provide clean drinking water for the indigenous people (locally known as 'Orang Asli') living in the village of Sekam, located on the way up to the Cameron Highlands Malaysia; and distribution of hundreds of sarees to underprivileged women from remote villages in Peninsular Malaysia.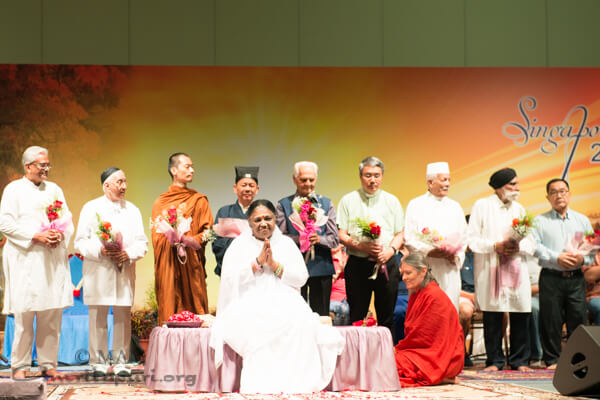 The programmes in both Penang and Singapore featured an interfaith tableau of special guests upon the dais with Amma; in Singapore, the interfaith representatives included Sneh Kant Gupta, Hinduism; Ervad Rustom M Ghadiali, Zoroastrianism; Phra Chun Kiang Goh, Buddhism; Teo Chai Ngo, Taoism; Jayantilal Amarshi Govindji, Jainism; Martin Yee Yeow Wai; Christianity; Aladad Khan Mulladad, Islam; Harbans Singh, Sikhism; and Chu Kin Mun Daniel of the Bahá'í Faith. The interfaith assembly participated with Amma in a silent prayer for world pace.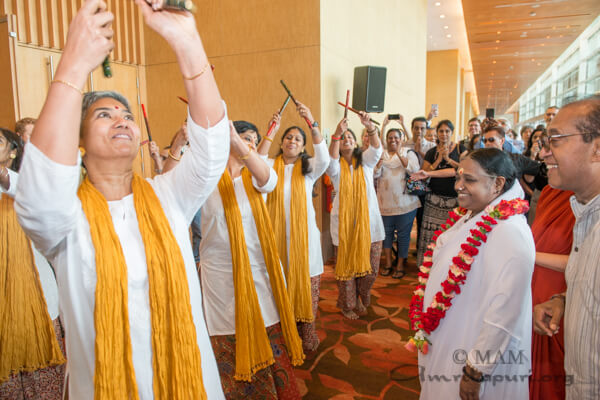 In Penang, an invited guest remarked, "Amma, your healing hugs are a brave defiance of the age-old practice of untouchability. In our own country, it is regrettable we live in a society where no one dares to touch another for fear of contamination. But here we have Amma who believes the opposite. She believes in the possibility of being made whole through the warm embrace of love," while a second remarked, "As Penangites, let us learn from Amma to be more giving. Let us work together to build and uplift our community. May Amma bless the state of Penang."
The local chapter of AYUDH Penang was also launched on the occasion of Amma's visit.
-Dass
photos from Malaysia
Photos from Singapore