Amrita University: The Temples of Learning
There is education for a living, and there is education for life. Along with the education needed to make a living, students should also be given education on how to live life. — Amma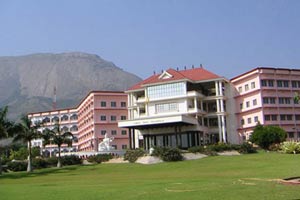 Amrita educational institutions are shining illustrations of this ideal being put into practice. It comprises of a wide and diverse spectrum of educational institutions of the highest quality – from primary schools to post-doctorate courses.
The college for higher education was launched in 1994. Growing by leaps and bounds since it was accorded University status by the Government of India in 2003. When it was conferred the university status, it was the first to have a multi-disciplinary, multi-campus at the outset. With campuses at Coimbatore, Amritapuri, Kochi, Bangalore and Mysore, Amrita University is emerging as one of the fastest growing institutions of higher learning in the country. The foundation stone for its upcoming campuses at Delhi and Amaravati have been laid recently.
Amrita University offers over 200 undergraduate, postgraduate and doctoral programmes in Engineering, Business, Medicine, Dentistry, Pharmacy, Nursing, Journalism, Biotechnology, Information Technology, Arts and Sciences, Humanities, Health Sciences, Education, Microbiology, Hospital Management, Visual Media Studies, Mass Communication, Social Work, Nanosciences and Ayurveda.
The University consists of the following schools:
Amrita School of Engineering, Coimbatore
Amrita School of Business, Coimbatore
Amrita School of Ayurveda, Amritapuri
Amrita School of Arts & Sciences, Amritapuri
Amrita School of Engineering, Amritapuri
Amrita School of Biotechnology, Amritapuri
Amrita School of Arts & Sciences, Kochi
Amrita School of Medicine, Kochi
Amrita School of Nursing, Kochi
Amrita School of Dentistry, Kochi
Amrita School of Pharmacy, Kochi
Amrita Center for Nanosciences & Molecular Medicine, Kochi
Amrita School of Engineering, Bangalore
Amrita School of Arts and Sciences, Mysore
Amrita School of Education, Mysore
In addition to these schools, the University also runs programmes in Mass Communication, Social Work and AmritaDarsanam Centre – offering programmes in culture, philosophy and spirituality. Visit the Univeristy website.
Based on the evaluation of all the campuses and programmes by a peer review committee in 2014, the University has been re-accredited by National Assessment and Accreditation Council (NAAC) with 'A' grade with a CGPA of 3.4 for all its campuses and programmes. Amrita is ranked 8th among all universities in the National Institutional Ranking Framework (NIRF) 2018 ranking of Ministry of Human Resource Development of Government of India. AMRITA is the only private university in the top 10.
AMRITA has also been ranked as the top private university in India in various world university, Asia and BRICS rankings of Quacquarelli Symonds (QS) and Times Higher Education (THE).
AMRITA started off in November 1994, as a School of Engineering in an obscure village called Ettimadai, at the foothills of Bouluvanpatty ranges of the Western Ghats in Coimbatore district of Tamil Nadu, with 120 students and 13 faculty members. Today, AMRITA University spread over five campuses in three different states of India has a student population of around 20,000 and faculty strength of 1600, conducting over 200 UG, PG and Doctoral programmes. Presently, there are 700 Ph.D/DM/MCh degree holders as faculty in the University. The staff-student ratio in the University, which is about 1:12, is one of the best prevailing in the country and especially in the private universities. The University today is having a total land area of more than 1000 acres and built-up space of about 9 million square feet.
RESEARCH INITIATIVES
Since Amrita Research Lab's inception in 2000, it has been engaged in a multitude of R&D activities. Many centres of excellence have been started in cutting-edge areas like Nanosciences & Molecular Medicine, Biotechnology, Wireless Networks & Applications, Multimodal Applications & Human-Computer Interaction, Digital Health & tele-medicine, Cyber Security Systems & Networks, E-learning, Advanced Technologies for Education, Biomedical Engineering, Computational Engineering & Networking, Cyber Security, Biostatistics, Cancer, Biosensors, Ayurveda, Spiritual studies, Women's Empowerment and Gender Equality etc with the support of major national laboratories, industry leaders and agencies like UNESCO, TIFAC, DST, ICMR, ISRO, DRDO, DBT, DIT, DRDO, Microsoft, Hewlett Packard, Media Lab Asia, Infosys, MDS Pharma, Biocon etc.
AMRITA is also a partner in the Ministry of Human Resource Development's National Mission for Education using ICT for various national projects in haptics, virtual labs, Educational Resource Planning, Natural Language Processing and interactive e-learning systems along with IITs and IISc.
The faculty of AMRITA has published more than 300 books and 12,000 papers in reputed international and national journals in the past fifteen years. Of these, over 6500 papers are Scopus-listed with over 40,000 citations.
AMRITA has attracted grants from various Governmental and private funding agencies to the tune of more than Rs. 250 crores in the past 15 years.
AMRITA has bagged or filed almost 100 major patents and inventions in the past few years which include Adaptive and Automatic Insulin Pump, Wireless Telematics, Virtual Private Network (VPN), Amrita Hospital Information System (AHIS) etc. Plans are afoot to manufacture this Insulin Pump commercially, which will be affordable for the poor at oone-third of the cost of similar such devices.
Recognizing the immense talent, technical knowledge, dedicated faculty, and visionary leadership with a focus on service to society, the Government of India has awarded AMRITA numerous mission mode projects: AVIEW (Amrita Virtual Interactive E-learning World), Haptics-based vocational training and education for women's empowerment, Virtual Labs, MEDSIM, OLABS 2, Adaptive Learning & CCE (Comprehensive Continuous Evaluation), Academic ERP (Academic Enterprise Resource Planning), TIFAC-CORE for Cyber Security, TIFAC-CORE for Biomedical Engineering, National Knowledge Network (NKN) Global Classroom, National Pedagogy Project, etc.
AMRITA is a partner in various international bilateral governmental research programmes and initiatives, such as Indo-US Initiative (Cyber Security, Cyber Crimes, & Cyber Forensics), Indo-European Union (Erasmus Mundus, India4EU programs), Indo-Japan Initiative in Wireless Networks & Applications, Indo-Brazilian bilateral programme on Wireless Networks and Techniques with Applications to Societal Needs, Indo-Italy bilateral Science and Technology Co-operation in Robotics, and Indo-Brazil programme in Nanomaterials for Renewable Energy.
Medical Research
Amrita Institue of Medical Sciences (AIMS) has been awarded research protocols by Government of India, Indian Council of Medical Research, and State Department of Science. AIMS is also a preferred destination for involving in multi-centred international clinical studies. The Amrita Centre for Nanosciences (ACNS) is an independent Centre under the University with both research and academic components. It is the first Government of India established Centre for Nanotechnology in the Biomedical area. The Department of Biostatistics came into existence in 2005. AIMS has established a world-class Institute of Molecular Medicine. It pursues basic and translational research of the highest quality in the fields of Molecular biology, Bioinformatics, Human Genetics, Immunology, Hemopoiesis and stems cells, Cancer research, Cell signalling and Neurosciences.
The Students at Amrita Univerity are encouraged to become members of national level technical professional bodies. Students are encouraged to attend conferences and present papers. In November 2008, a team of 9 third-year B Tech students from Amritapuri presented their papers at the IEEE Regional Student Conference on Research and Development in Malaysia. One of their papers won the best paper award in the conference. A student from the School of Business represented India at the European Market Research Conference. Students take part in international contests and the students have won top honors in these contests. In 2008, for example, the Amrita team beat 60,000 other teams to emerge runners-up in the IBM Great Mind Challenge competition. In the academic year 2008, university-wide there are over 200 registered PhD students. There are over 200 doctorates among the Amrita faculty, several with degrees from the West. Visit the research website
Cultural Education & Societal Commitment
All the students of Amrita University have ample opportunities for orientation in Yoga, Meditation and Cultural Education. Integrated Amrita Meditation (IAM) technique helps them achieve holistic development of mind and body. The students have also demonstrated their social commitment and community engagement by participating in disaster relief and rehabilitation activities after the Gujarat Earthquake in 2001; Tsunami relief operations in Tamil Nadu and Kerala in 2005-2006, flood relief operations in Bihar in 2009, Karnataka in 2010, Chennai flood relief in 2015. AMRITA students in all campuses have played an active role in the Amala Bharatham – Clean India awareness drive and campaigns in their communities as well as wholeheartedly participating in the cleaning of the Sabarimala pilgrimage site before and after the pilgrimage season for the last 7 years.
Future
AMRITA proposes to have a major campus at National Capital Region (NCR) region with a super-speciality hospital and medical school consisting of 2250 beds. The construction activity is already on and is being executed by Tata projects. In the second phase, there are plans to start programmes in engineering and humanities. The total campus area is about 270 acres. The Chief Minister of Andhra Pradesh, Sri. Chandrababu Naidu has invited AMRITA to start a campus at Amaravati, the new capital city of Andhra Pradesh. Another campus at Chennai is on the anvil.