Amrita Vishwa Vidyapeetham emerged as the 8th best university in the country for the second consecutive year in the National Institutional Ranking Framework (NIRF) Ranking 2019.
Amrita School of Medicine at Kochi was ranked 5th best medical college in the county.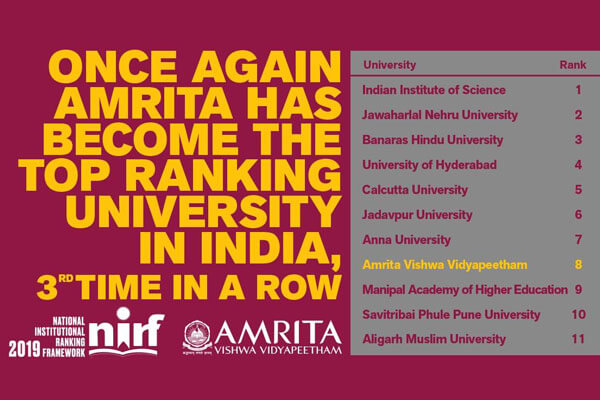 The list was released by Hon'ble President of India Shri Ram Nath Kovind on April 4, 2019.
Assessment on this framework included:Teaching, Learning and Resources where AIMS excelled in the experience of faculty, the state-of-the-art teaching and learning facilities included advanced surgical programmes like the Minimal Invasive Surgery, Robotics, Cyberknife, Tomotherapy etc.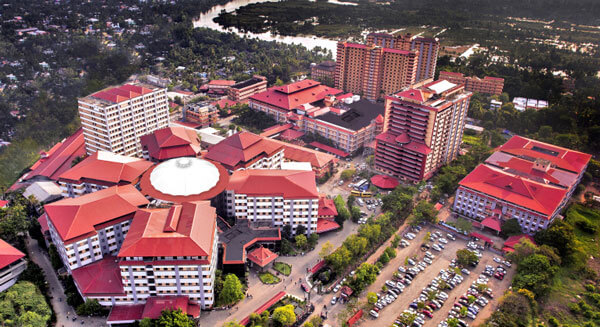 Amrita Vishwa Vidyapeetham is a multi-campus, multidisciplinary research institution that has been ranked among the best Universities in India by Times Higher Education, QS, etc. Amrita Vishwa Vidyapeetham is spread across six campuses in Kerala, Tamil Nadu, Karnataka, and soon to be launched in Haryana and Telangana with headquarters at Coimbatore. It has more than 19,000 students, more than 1,800 faculty, more than 200 academic programmes, 5200+ Scopus-indexed publications, 33,000 citations and Rs 250 crores in research funding, as well as 12,000 peer-reviewed publications, 44,000 citations, 100+ patent filings and Rs. 450 crores in research funding.
Amrita Vishwa Vidyapeetham continuously collaborates with top US institutions including Ivy League universities and top European universities for regular student exchange programmes and has emerged as one of the fastest growing institutions of higher learning in India.