8 October 2017
At a function held today at the Mata Amritanandamayi Math in Kollam, Honourable President of India Shri Ram Nath Kovind inaugurated a new charitable initiative through which MAM aims to provide filtration for clean drinking water to one crore [10 million] villagers throughout India.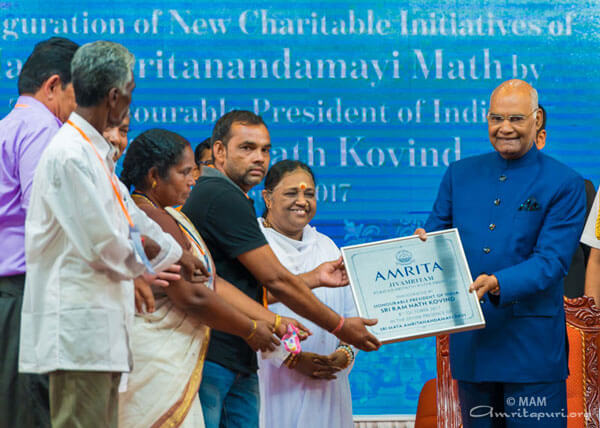 The initial phase of the project — which aims to install "Jivamritam" filtration systems for clean drinking water in 5,000 villages throughout the nation — is being completely funded by the Mata Amritanandamayi Math (MAM), at a projected cost of Rs. 100 crore [$15.27 Million U.S.]. Each Jivamritam System is capable of filtering the daily drinking-water needs of up to 400 five-member families.
The Jivamritam Filtration System was conceptualized and designed by faculty and students of Amrita University. The Math intends to deploy all 5,000 Jivamritam Systems within one year, provided we receive timely permissions from local administrations.
"The Jivamritam System avails of a dual sand-and-activated-carbon filter to remove suspended particles and turbidity, followed by micron filters of five-micron and one-micron filtration," said Dr. Maneesha Sudheer, the Jivamritam project head from Amrita University. "Each system also includes an ultraviolet water-purifier to remove pathogenic contamination, and two storage tanks — 2,000-litre-inlet and a 1,000-litre outlet — to keep treated and untreated water separate. The filtered-water tanks are integrated with taps to provide drinking water at the location of the system itself."
President Kovind inaugurated Jivamritam in Amma's presence by unveiling a model system to thousands of Amma's devotees who had gathered for the occasion. The President, Amma and the gathered crowd, then watched a Jivamritam System provide clean water to villagers in Clappana, Kollam, via a live-stream connection.