The first day of the Navaratri festival (Nine nights worshiping of Durga) this year was on September 21st.
On that day, both at Amritapuri's Kali Temple and the Kalari, beautiful and colorful 'Golu' dolls were being displayed with lights. Special homas and pujas were also conducted in the morning and evening in both locations by Brahmacharinis of the Ashram. For each of the following 9 days and nights, pujas and prayers were conducted.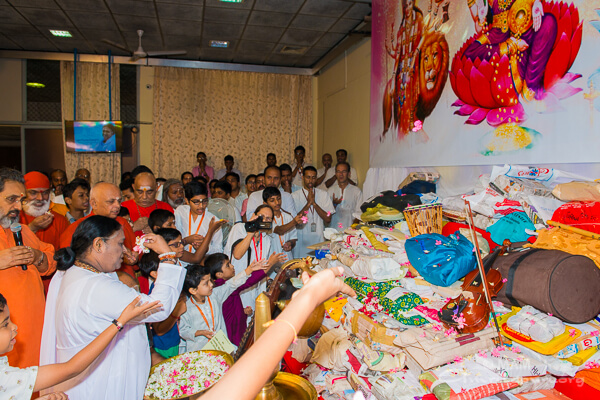 On the 27th evening, special Navaratri performances were offered by Amrita University students in the main hall in front of Amma, as she was giving darshan. AYUDH Amritapuri decided to celebrate Sep 27th as Universal Motherhood day.
On the 28th, at 5pm, as Amma was giving darshan in the main hall, she called for everyone to bring their study books and instruments to keep it next to the altar on the stage to receive Saraswati's blessings over the next 3 days. Amma then sang a bhajan and conducted a brief ceremony with mantras while everyone offered flower petals.
The 10th day of Navaratri is the Vijaya Dasami day. For the occasion, Amma led prayers and chanting to bless the books and musical instruments that had been placed near the altar by the devotees to invoke Saraswati's blessings.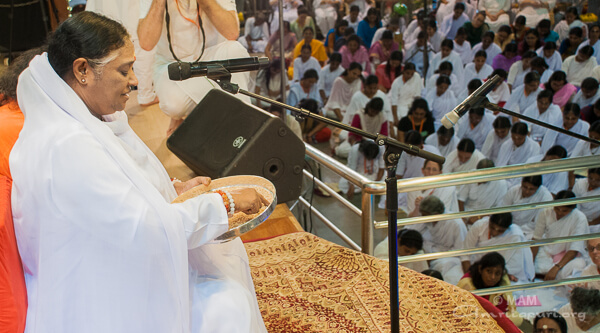 Speaking on the occasion, Amma asked everyone to maintain a childlike attitude, as essential for a successful life. Then she guided all in Aksharabhyasa – initiation into the world of alphabets with the mantra "Om Hari Sri Ganapataye Namah".
Thousands had gathered to celebrate the blessed day in Amma's presence, filling the main hall. Each one traced the mantra, signifying the beginning of a new phase in their life. After the mass initiation, Amma took personally initiated many small children – each about three years of age — taking them one by one onto her lap and tracing the mantra with them.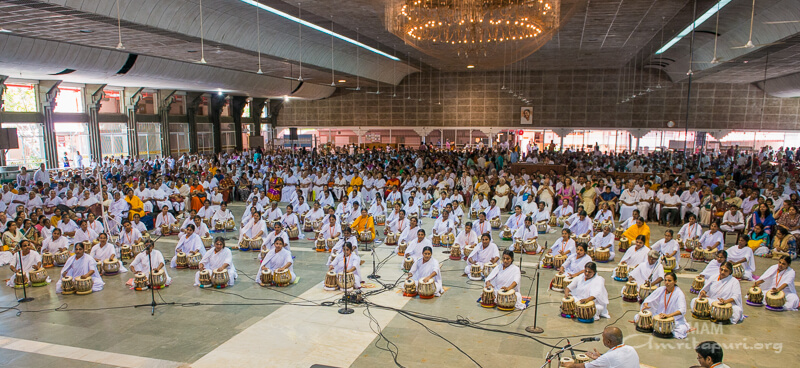 Later in the day, after having taken their first tabla lesson, 80 of Amma's brahmacharinis and 20 brahmacharis offered her a group musical tabla performance, as she was giving darshan. The senior students also presented a Nadapuja with tabla to the divine. Throughout the day, one could see people practicing or starting new lessons in their regular study materials or music or art forms. Amma's teaching, and the principle of Vijayadasami – to always remain a beginner – permeated the very air.
– Kannadi