Santa Fe, New Mexico, USA – June 12-15
Amma began the first day program with satsang and meditation. Before darshan began, Amma sang a bhajan and asked everyone to stand up and dance.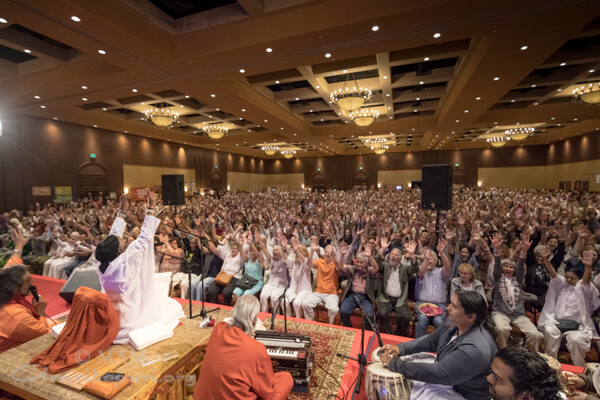 Many devotees were wearing special buttons commemorating Amma's 30th visit to Santa Fe.
The second night of the retreat began with a meditation and Q&A session followed by Amma serving everyone dinner. Just after bhajans and Arati, local tour organizer Kristen Speakman welcomed Amma. " We are so grateful and honored to be celebrating Amma's 30th Anniversary of coming to New Mexico." Amma was then garlanded by Kusuma Venkatesh, (who organized the first tour in 1987, and Steve and Amritapriya Schmidt who first hosted Amma in Santa Fe, and who have been instrumental in the development and operations of the Amma Center of New Mexico.
Devotees from across the Southwest next offered items to Amma. The first was a commemorative book of gratitude and remembrance of how Amma has positively impacted and inspired their lives. Another offering was a piece of pottery specially made by a local Native American potter from the Jemez Pueblo. Called 'Storyteller', it is a depiction of a mother with her children. A short video was then shown documenting the past 30 years of Amma's visits to New Mexico. Addressing the crowd, Amritapriya Schmidt closed the ceremonies, "Please join me in thanking Amma for the unbounded, infinitely merciful grace and love she has, and continues to bestow upon us these 30 years in New Mexico."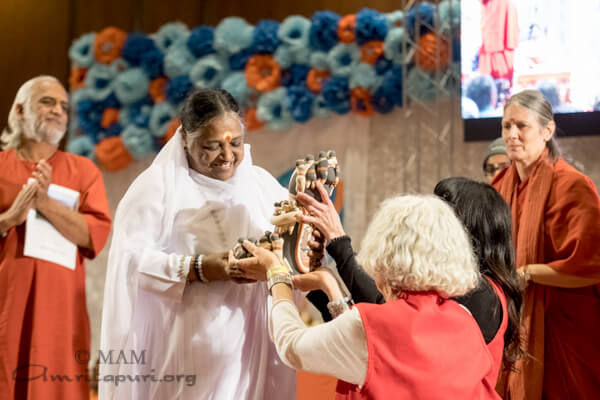 Speaking to the assembled crowd, Amma reflected on the need to believe in our own divinity and kindle the goodness within: "Goodness is the manifestation of God within us all. It is our true wealth. We must not let anyone steal this from us. We should never allow any other person's words or actions to erase the words that God has written in our hearts."
The second night of the retreat included many cultural performances. Local children put on a play using cardboard animal images they had made themselves. The story told how the animals were sad because of the harm humans were doing to the Earth's climate. A young girl saw their suffering and told them that if they prayed to Amma, perhaps humans would change their ways. Their prayers were indeed heard, and the environment and climate became healthy and everyone was happy. Other cultural performances included a Flamenco dance, and a beautiful violin solo.
Just before the Atma Puja on Devi Bhava, Amma blessed two saplings that will be planted at the Santa Fe Ashram. Steve Schmidt addressed the crowd, "May we fulfill your dream for us, your children, to make the world a better place."
-Dass