17-18 June, Dallas, Texas – USA Yatra 2017
On the way to the Dallas programs, Amma stopped at the new MA Center in Aubrey, TX just north of Dallas. Located on a 50-acre plot of picturesque property in what is known as "Horse Country USA", the center includes a ranch house and a scenic pond. Local devotees were overjoyed as Amma served everyone dinner, sang bhajans, and meditated by the pond.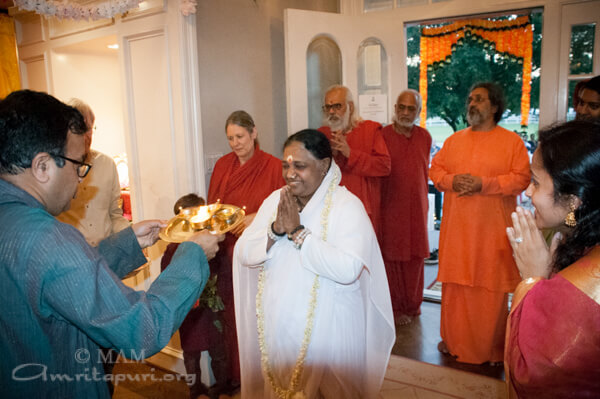 The public programs were held at the enormous Hilton Anatole hotel in downtown Dallas. Beautiful artwork from the Far East lined the corridors of the hotel and a small water park complete with slides and a wading river provided additional entertainment for attendees between programs.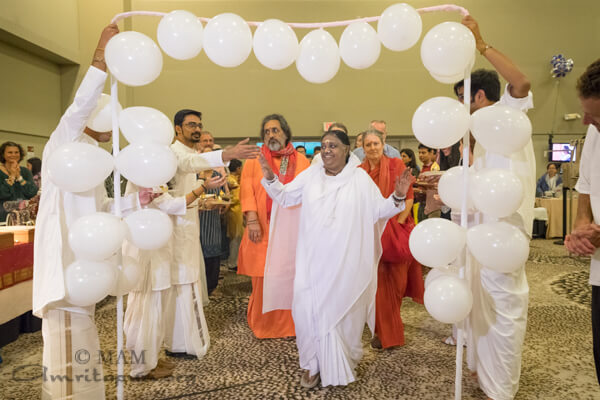 At the start of the first evening program, Dallas County Treasurer Ms. Pauline Medrano welcomed Amma, "We are inspired by your hope and your compassion. Thank you for being in Dallas and thank you for your blessings."
During the programs, Amma gave Satsang, sang bhajans, and gave darshan. Local devotees offered a number of cultural performances including traditional Indian dancing.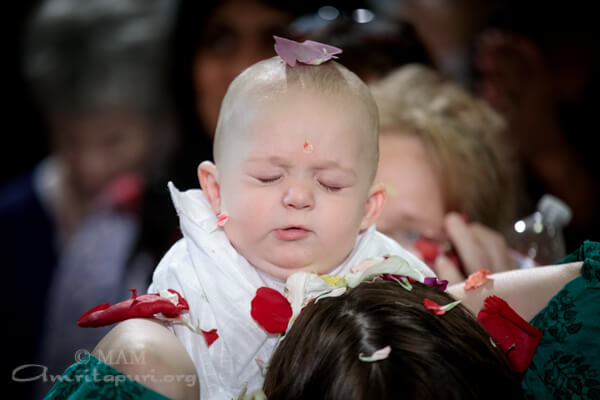 While addressing the crowd, Amma reflected on the need for stabilizing the human mind, where all acts of violence and hatred have their origin: "While natural disasters may not be under our control, we do have technology that can signal us as they are approaching. However, science has yet to invent a device that can detect the disasters man carries in his mind." Spirituality, as Amma has taught throughout her life, is the science of managing the mind. In today's world, this science is needed more than ever before.
Continuing the celebrations of honoring Amma's 30th visit to the US, a small ceremony was held on the second evening before Devi Bhava. Jeff Warren addressed the crowd as a group of local devotees who had first met Amma 30th years ago offered flowers at Amma's feet. Two saplings were blessed by Amma which will be planted at the new Ashram.
-Dass