24-25 Jun, Ft. Worth, Texas – America Yatra 2016
This year's programs in Texas were held at the Worthington Renaissance Hotel in Ft. Worth, TX, about 45 minutes west of Dallas.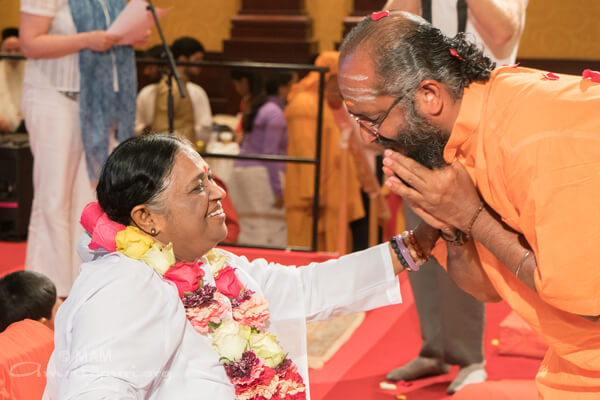 On the first morning, four local civil representatives were on hand to garland Amma. Welcoming Amma to Ft. Worth, Mr. Jameson addressed Amma and the gathered crowd: 'Amma, and all of you that have joined us here today, it is my sincere pleasure to welcome you to a city, perhaps known as a city of cowboys and culture, but I think most notably known as a city of great generosity, humanity, and a generous sense of welcome. Your message of peace and love is gratefully received here today and we are honored by your presence.'
Ms. Zadeh also spoke: 'I know that the energy of peace and love that is generated through this event this morning will permeate our city and stay with us long after you have left.'
Attending the first evening program were two representatives from the Chinmaya Mission – Swami Sarveshananda, Resident Acharya of the Chinmayi Mission in Dallas, TX; and Abhishek Chaitanya Giri from the Chinmayi Mission in Rishikesh, India.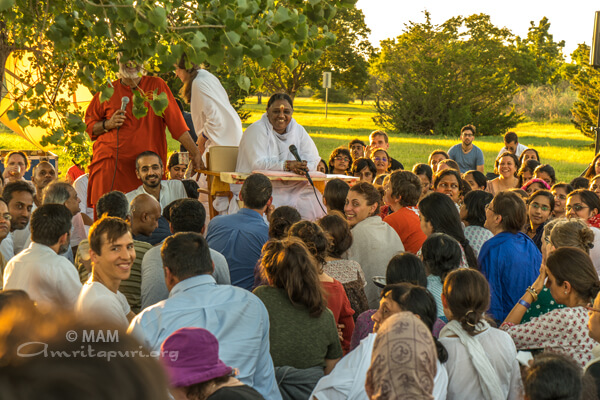 Devotees from regional satsangs in Dallas, Houston, Austin, and surrounding areas put on a variety of cultural performances during the programs. These included a Bharatnatyam dance depicting the form Ardhanarishwara, a veena performance, and Bhangra dancing celebrating Lord Ganesha.
-Tulasi