3:00 a.m., 27 September 2006 — Amritapuri
In the wee hours of Amma's birthday, Amma paid a visit to the kitchen, where hundreds of devotees had been busy for hours, preparing the rice, sambar and curries needed for the next day's meals. On Amma's birthday the Ashram feeds everyone without charge—anna-danam. With the potential of more than 100,000 people coming to participate in the day-long celebrations, there were literally tons of rice to boiled and vegetables to be chopped.
Amma first stopped among the men who were cooking rice, inquiring about the work and their families. It was a beautiful surprise and break for the devotees.
Next Amma walked up the steps to the kitchen's second floor where the ladies were busy chopping vegetables. It has become something of a tradition for Amma to help with the vegetable-chopping seva on the eve of her birthday. As such, the ladies had already prepared a table, chair, chopping board and knife for Amma.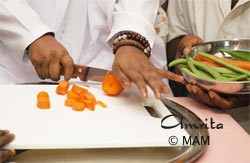 Actually, when Amma walked in the room, the devotees were singing an old Malayalam bhajan, "Entamme Nin Makkale Nokkuvan Madikkunnu."
Seeing the hard work and devoted hearts of her daughters, Amma immediately joined in their song:
Why, Mother, are you hesitating to look at your children?
What is mistake did this poor one make? This, please tell us, Mother.
O Mother who sustains the three worlds,
We are waiting to serve thy holy feet.
O Mother who is the essence of compassion, dearest Mother,
Please come near your children and look at them.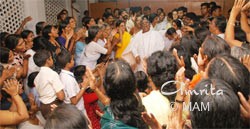 Amma had joined in her children's appeals to Devi. The Mother had become one of the children. Many of the ladies spontaneously dropped their knives and began dancing—some crying as they did so.
But then Amma suddenly switched songs—and roles—and began singing to them from the bhava of Devi ["Ellam Ariyunna Ammayodu"]:
To the all-knowing Mother
You don't need to tell anything.
Walking along with us, everything She is seeing,
Everything She is knowing.
All the thoughts in the innermost recesses of the mind
The Primordial Shakti is seeing.
As two the songs are of the same sruti [modal scale], the devotees hardly knew what hit them. It was a beautiful trick—one that brought smiles all around.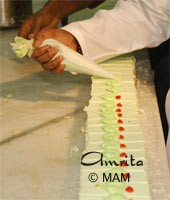 When the song finished, all the devotees began singing "Amma Amma Taye." When the song reached its peak, they threw their arms up into the air and called out "Amma! Amma! Amma!"
Next Amma started walking to the bakery. On the way there, she stopped to watch the Ashram's recently acquired chapati machine, which was in the process of firing out 2,000 chapatis an hour. In the bakery, Amma spent some time kneading dough with devotees working there as well.
Amma's final stop was in fact the sweetest—the cake-making area. There, Amma joyfully iced a big cake.