Amritapuri, Israel, Ooty & California Merge in Devotion
27 September 2006 — Amritapuri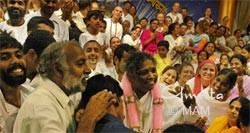 It seems Bala Bhaskar's Indo-rock fusion ensemble that performed on the eve of Amma's birthday was a harbinger of things to come. In the final hours of Amma's birthday celebreations, music and dance from several lands merged together like a confluence of rivers flowing towards the sea.
It all started when a group of devotees from Israel sang a set of traditional Israeli songs in Hebrew, including "Oseh Shalom" and "Hava Nagila." Although the majority of people celebrating Amma's birthday in Amritapuri had never heard such music before, many were visibly moved. Not long into the first song, a group of Amma's Jewish children began dancing in a circle next to the musicians, clapping and dancing to the beat of "Hava Nagila." Eventually a devotee from Cameroon came on the scene. She joined in with the Israeli group and soon was leading them in a fantastic version of "Om Namah Shivaya." She then sang a soulful version of "Happy Birthday to You," with the entire hall full of devotees singing along.
A little later, a group of devotees—Baduka community— from the remote hill station of Ooty (Tamill Nadu) gathered near the stage. Like with the Israelis, they also had a group of singers and a circle of dancers. As their folk music played, the Baduka devotees danced, letting their arms elegantly flow up and down to the beat. The rhythm was too inviting, and soon a number of Western devotees joined in, trying to imitate the movements of the Baduka devotees.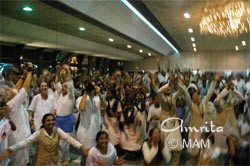 Amma was observing everything as she gave darshan. She was visibly delighted by the multicultural display, and even started to move her hands to the rhythm as well. With more and more Westerners joining the fray, they soon outnumbered the Batukas. Then a large group of students from Amrita University joined in. What was once an organized circle of choreographed dance quickly became sea of dancing devotees.
When the music reached its peak, some began shouting "Amma! Amma! Amma!" Amma then suddenly took the mic and started calling out "Amma!" as well. This was all it took for the entire hall to erupt into similar cries. "Amma! Amma! Amma!"—the sound reverberated throughout the hall. Everyone was dancing, jumping up and down and clapping their hands—the people in the hall, the people on the stage, even the people on walking up the ramps for Amma's darshan.
Things calmed down for a while, but then near dawn, as the darshan queue began to shorten, Amma started singing bhajans along with the crowd. Clapping her hands, swaying back and forth, Amma sang "Amma Barama," "Lalitamba Lalitamba" and "Amma Amma Konachi," as she continued to give darshan.
About half way through "Amma Barama," someone brought a computer and a small video camera to Amma. An Internet connection had been established between Amritapuri and the M.A. Center in San Ramon, California, where hundreds of devotees had gathered to celebrate Amma's birth. Amma waved at her San Ramon children through the computer and they waved back in delight.
As Amma continued singing bhajans, the San Ramon devotees swayed back and forth and sang along. Whenever Amma could, she would look over at the computer screen or at her children down below her. Amma also would playfully play "patty cake" with everyone—alternating between her children in America and the one's directly before her.
At one point, Amma began calling "Om Namah Shivaya!" into the computer microphone. Amma was anticipating a response from her San Ramon children, but if they gave one, it was overshadowed by the one from below—the orphans from Parippally!
Holding the microphone, Amma then told her San Ramon children in English, "My darling children, you are the beautiful flowers of my heart!" At the very end of darshan, Amma waved one last time at the computer camera and then gently kissed the camera's lens.
What a Mother—one whose love crosses oceans and all boundaries of time and space.
—Kannadi