3 a.m. 27 September 2006 — Amritapuri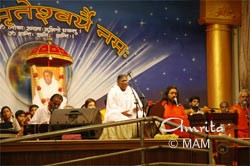 After finishing darshan at about 5:30 pm, Amma briefly returned to her room, and then came out for bhajans at 7:00. The hall was filled to the brim with devotees who had come to celebrate Amma's Birthday. After bhajans, Amma then returned to her room again, and the hall was prepared for the evening cultural performances.
Throughout the day the people living in the villages surrounding the ashram offered prayers by chanting the Lalita Sahasranama and Amma's 108 names. Now, as sunset, they lit oil lamps in front of their homes and or set them to drift in paper boats down the backwaters.
The first performance of the evening was by violinist Bala Bhaskar and his ensemble, which included a tabala player, an electric guitarist, a trap-set drummer, a keyboardist and a ghatam [clay pot] player. Bala led the group through a set an amazing set of India-rock fusion, which found the musicians dancing through ragas at lightening speeds. Amma fully enjoyed the show, clapping her hands to the beat. Bala then played a sombre ballad, which he dedicated to Amma. For most of the song, Amma's eyes were closed, her head slowly moving back and forth to the melody. At the end, Amma gently wiped tears from her eyes….
When the performance concluded Amma compared the performers to the colours of the rainbow, saying how they brought joy to everyone around. She blessed Bala Bhaskar, saying over the microphone that she hopes he will one day rise to fame. She then encouraged the youth of Kerala to imbibe the rich cultural music of India.
Amma never acknowledges her birthday. She says that for her it is just like any other day. In fact, Amma says that she only allows it to be celebrated as a prayer for world peace and to launch new charitable projects and to make her children happy. Regardless, at midnight all the devotees began joyously singing "Happy Birthday to You!"
Next came performances by students from various Amrita schools and institutions. Medical students from AIMS performed an award-winning "peacock dance" choreographed by one of the students. This was followed by two classical Indian dances and a skit in Sanskrit re-enacting a story from the Ramayana. The final performance was a short play depicting the life of Markendaya Rishi.
Once the performances ended, Amma headed straight for the kitchen, where preparation for the next day's massive feast—which would be provided free by the Ashram to one and all—was well underway.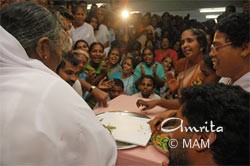 Amma first checked the rice and sambar. She then headed to the kithcen's second floor where devotees were chopping vegetables. As has become something of a birthday tradition, Amma joined them for some time. At this point, a crowd gathered around Amma and began singing bhajans. Amma immediately joined in, bringing joy to all the hard-working devotees' hearts. When Amma returned to her room, it was 3.a.m., with Amma's pada-puja and a full day of darshan only five hours away.
—Tulasi