Monday, 27 September 2004, Amritapuri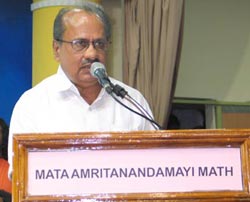 Losing a child since the doctor was not at hand or suffering constantly since the diagnosis was faulty or getting handicapped for want of timely medicines is now going to be a thing of the past for many residents of Kalpetta, Wayanad. As part of the 51st Birthday Celebrations of Amma, the Honourable Minister of Health and Family Welfare for Kerala, Shri. Ramachandran Master, inaugurated an Amrita Charitable Hospital in Kalpetta.
Speaking on the occasion, the Minister said that service to humankind was service to God, and that this teaching was embodied in the life and teachings of Amma.
What makes this 10-bed healthcare centre unique is that it will be Kerala's first hospital to benefit from the telemedicine link when connected with Amrita Institute of Medical Sciences (AIMS), Cochin. Though AIMS is linked via an ISRO Satellite with 82 hospitals and clinics in India, it is the first time that a Kerala hospital will become a beneficiary; and that too, a center that will be accessible by the poor.