Monday, September 27, 2004 — Amritapuri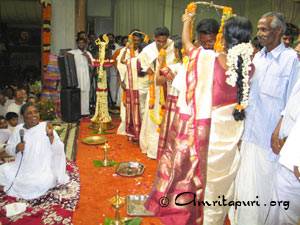 Amma's 51st Birthday Celebrations
Srinath and Lakshmi (names changed) never dreamed this day would take place—the most memorable day of their lives. But on September 27, this very poor couple were married at Amritapuri Ashram by none other than Amma Herself.
Their wedding took place along with those of 30 other couples who's families were similarly unable to afford the costs of a traditional Indian marriage. After a careful economic screening process, the Mata Amritanandamayi Math arranged all the necessary clothing, gold ornaments and puja items needed for the ceremony and conducted the mass wedding on the auspicious occasion of Amma's 51st birthday celebrations.
One of the stipulations for the couples was that the bride's family would pay no dowry to the groom's.
This was the second time that Amma and the Math had conducted a free mass wedding for the poor. The first took place a year before during Amritavarsham50, Amma's 50th birthday celebration in Cochin, where more than 150 couples were wed.
–Sushil