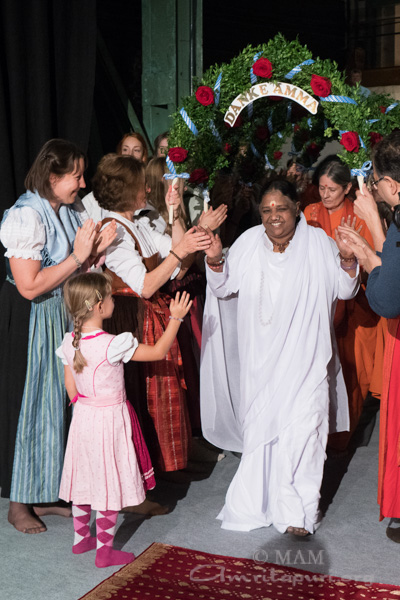 10-12 October, Munich, Germany – Europe Yatra 2015
The second stop on Amma's European Yatra was Munich, Germany. Immediately after the end of the final program in Barcelona, Amma and the group travelled more than 1300km across Europe from the Iberian peninsula to the heart of Bavaria. Even though Amma arrived and the group arrived late at night, a few hours later everything was being set up for the next program that morning.
For the last several years Amma's Munich programs have taken place in the Kulturhalle Zenith. Each day large crowds are delighted to watch Amma descend to the stage to start the day's program along a high balcony that runs the length of the hall and early in the morning the following day, watch Amma ascend out of the hall along the same balcony. Each day Amma would arrive to the sounds of traditional Bavarian music played by local devotees dressed in 'lederhosen' and leave dancing to the beat of the Baduga music that has become the anthem for this tour.
On the second evening Amma was welcomed to Munich by Franziska Buch, well known, award winning German film director and screenwriter. Her work focus is on family and children and she is best known for her very successful children's movies. Like "Emil und die Detektive" or "Bibi Bloxberg".
The final evening program finished at 8:14am the following day whereby Amma and the tour group continued to the next stop of the tour in Switzerland.
see more photos…