20 August 2004 — Parippally, Kerala
For Malayalees all over the world, the coming of the fall month of Chingam brings with it sweet childhood memories—of time spent with family, of eating nice meals and, for many, of collecting flower petals with which to make colourful mandalas. All these are part of the month's 10-day Onam celebrations, an important part of Kerala's culture. The festival teaches lessons of brotherhood, happiness, contentment, devotion, sharing, sacrifice and surrender to the Higher Self.
This year, the Amrita Sanskrit Higher Secondary School in Parippally held its own Onam celebration. Among the school's 2,300 students are the 500 or so residents of Amma's Amrita Niketan orphanage, many of whom have had few chances to celebrate the holiday.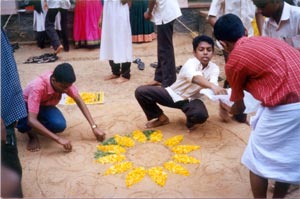 An area was roped off for the classes to compete in creating flower mandalas, or pookkalams, as they are called in Malayalam. The youngest students were assisted by their teachers, while the older ones had come with designs in mind. The boys created the geometric outline of the designs in the sand using compasses made of pencils and string. Then all the students in the group filled in the sections with various colours and textures of flower petals. The offerings of the pookalams were completed with the burning of oil lamps and incense sticks.
Pookalams are made outside the doors of homes, offices and temples to welcome King Maha Bali on his 10-day visit from the underworld to his former kingdom of Kerala.
Observing the competition one could notice the interpersonal skills needed to complete the design. There was a lot of discussion and dispute around the shape and colours of the pookalams. Agreement had to be reached and then fast and efficient teamwork was required to finish within the allotted time. The result was a beautiful creation achieved from the contributions of all the participants. Watching the children, one could see them honing skills that would serve them well in any endeavour.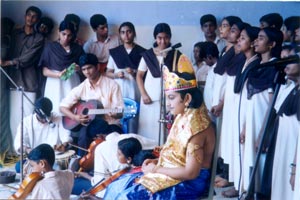 After the pookkalams were finished, the students performed thiruvathira, a traditional Onam dance, and then the chief figure of Onam, King Maha Bali, portrayed by one of the students, arrived from the underworld to deliver an inspiring speech. The other students then sang bhajans, playing violins and guitars and tabla.
With the next day came the Onam vacation. Many of the orphans were taken to caregivers in their native villages, but 200 others came to Amritapuri to spend time the rest of the holidays with Amma.
—Rita