26 July 2000, Amritapuri
On Wednesday 26 July, Amma's Birthstar (Karthika) was celebrated with a Kali puja in the Kalari. The entire ashram had been decorated with garlands and lamps, and the Kalari itself was graced with traditional motifs (mandalas) and more lamps and garlands. The highlight of the ritual occurred during the singing of the rousing bhajan, "Ayigiri Nandini Nandita Medhini".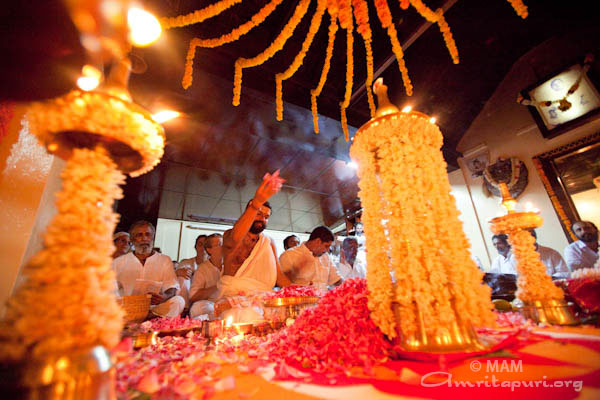 Suddenly Amma was in the Kalari, among her children (normally Amma does not attend these pujas). She stood gazing at the lamp, the statue of Ganesha, the flowers and oil lamps, the brahmacharis who were singing and then turned and smiled tenderly at the devotees. As She returned to Her room, She seemed to be dancing to the continuing chanting, and clapping Her hands in time with its captivating beat.