Navaratri highlights the principles elucidated by the Ramayana. This is hinted at in the other name by which Vijaya Dashami is known in India, Dussehra. "Dussehra" is derived from "Dasha-hara", which means "victory over the ten-faced one". This ten-faced being (Dashamukha) is none other than Ravana, Lord Rama's adversary. His ten heads symbolise the ten senses (five of perception and five of action). Ravana's manifest extrovertedness stands in contrast to Dasharatha, Lord Rama's father, whose name can be taken to mean "one who has controlled his ten senses." That he is father to a Divine Incarnation suggests that only when one is able to subdue all ten senses can one realise the divinity within.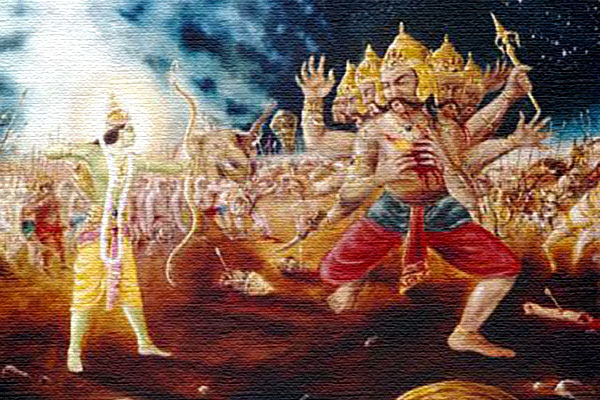 In similar allegorical fashion, Sita, Rama's consort, represents the mind. As long as the mind remains wedded to the Self within, so long will bliss ensue. That is why Rama and Sita are depicted as enjoying a harmonious and satisfying relationship, both amidst palatial comforts and the privations of the forest. As soon as the mind withdraws from the Self and turns outwards to worldly objects, bliss ceases, and sorrow follows. In the Ramayana, Sita becomes distracted by a golden deer, actually an asura (demon) in disguise, and starts coveting it. Rama counsels her on its true nature, but Sita remains deaf to his words of wisdom, and insists that he captures it for her.
Rama orders Lakshmana to remain with Sita and protect her from danger, while He pursues the deer. As soon as Rama hunts it down, the magical deer treacherously calls out, in Rama's voice, to Lakshmana and Sita for help. Hearing this, Sita is convinced that Rama's life is in danger and tells Lakshmana to hurry to Rama's rescue. Lakshmana, who represents tapas (austerity), recognises that the situation is a trap and tries to advise Sita accordingly. Sita arrogantly rebuffs his explanations and orders him to leave at once. Seeing no other way out, Lakshmana leaves in search of his brother. Before leaving, he draws a line on the ground and warns Sita not to cross the line. This line, the Lakshman rekha, marks the limits of morally permissible behaviour. Because Sita trespasses into forbidden territory, she has to suffer the consequences: she is taken captive by Ravana. Only after this ten-headed egoist gets destroyed, only after the ten senses are controlled, is Sita reunited with Rama.
The story of the Ramayana is relevant to us as well. If we wish to progress spiritually, we have to first make efforts to control the negative tendencies. Only then can we cultivate the positive ones. In the Bhagavad Gita, Lord Krishna enumerates the signs of a Jnani (one who has realised the Self), not because an ordinary person can recognise such signs, but so that we may cultivate those qualities. Likewise, Amma says that we should read stories about Lord Rama so that we may become Rama Himself, that is, imbibe His noble qualities.