26 Mar, Amdavad, Gujarat – Bharata Yatra 2015
Upon arrival in Amdavad on March 25, Amma spent a joyful evening with her children on the school grounds of Amrita Vidyalayam – singing and dancing to Gujarati bhajans.
The following day, Smt. Anandiben Patel, Chief Minister of Gujarat, visited Amma in the school premises to seek her blessings and guidance.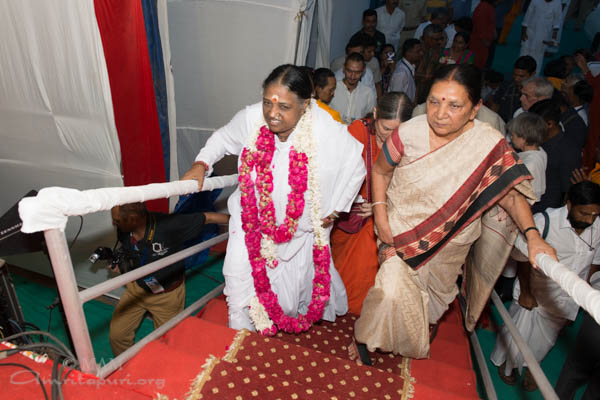 Smt. Anandiben Patel also welcomed Amma at the public function later that day. In her speech, she said: "Today is a very historic day for Gujarat, for the world renowned Amma has come to us. She has given darshan to millions of people around the world. She consoles the suffering and offers them guidance.
"Amma was born in a simple family around 60 years ago. Back then it was very hard for girls to receive good education. As a girl of only 7-8 years Amma did godly work with her words, deeds and her presence – helping people in sorrow, feeding the poor and hungry – before she herself would eat. All these qualities came naturally to her, from birth itself.
"Today, I feel very blessed to listen to her and receive her direct guidance. Our biological mother will not love us as dearly. Amma is giving much more – to the poor, the sorrowful. It is not an easy task that she has taken up. But she has chosen to do this work.
"Amma, I humbly ask you to visit Amdavad every year to provide us with your guidance and shower your grace to fulfil all that we lack."
Among other dignitaries who present at the programme was Swami Adhyathmananda of Shivananda Ashram, and Padmashree Dr. Tejas Patel.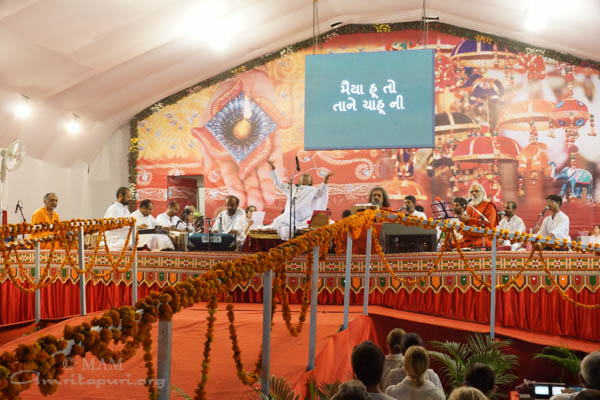 During the public function, Amma handed over Amrita Nidhi pensions and Vidyamritan scholarships. To support local women, Amma also distributed free saris and sewing machines, with which the women can now earn their own livelihood. In a special ceremony Amma handed over eight certificates to young women from the Dagara village, acknowledging their completion of the 10th standard exams conducted by the National Institute of Open Schooling (NIOS).
Every time Amma visits Ahmedabad, her children from the Kutch district travel over 400 km to pay their respects and receive Ammas blessings. They are forever grateful to Amma for rebuilding three villages in their region in response to the 2001 Gujarat earthquake.
An abundance of cultural programmes was offered by students of Amrita Vidyalayam.
As darshan concluded on March 27 at 8:31, Amma sang a new Gujarati bhajan which made people both off and on the stage dance and rejoice in the rays of the morning sun.
– Sundar