24 March, Amdavad, Gujarat- Bharata Yatra 2015
As soon as Amma finished giving darshan at 5.40 in the morning of 24th in Mumbai, Amma and the tour group immediately started to drive towards Amdavad for her next program.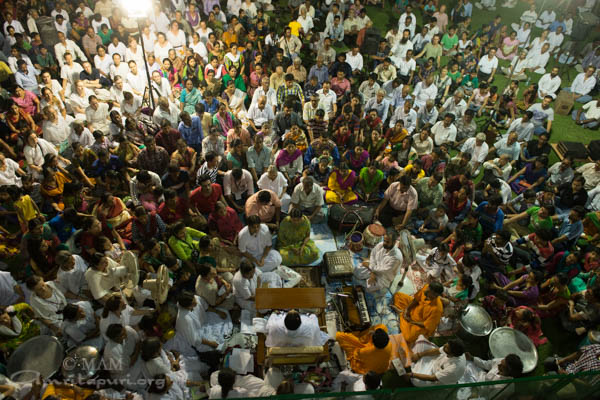 Upon reaching the Amrita Vidyalayam, Amdavad at 10.20 pm, Amma sat in the beautiful grassy courtyard of the school, surrounded both by her Gujarati devotees and tour group. After a meditation session and prasad dinner, Amma sang Gujarati bhajans. As it is the very nature of Gujaratis, one by one, the devotees started to get up to dance and clap to the music. Young and old alike, parents with they little babies on their shoulders, joined in a joyful celebration. Soon, Amma's international children also got up and rejoiced in copying some of the traditional Garba dance moves.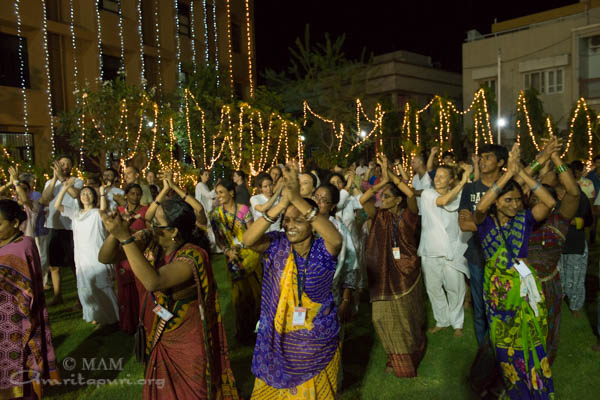 What started as a small picnic soon turned into a turning mandala of dance in the garden of the school. Colourful Gujarati costumes and faces of all nationalities whirled in the blinking decoration-lights of the buildings.
Neighbours looking down from their windows and balconies were surely wondering at the scene, marvelling at Amma's wonder to bring about such a cheerful celebration in the middle of the night, uniting hearts from all nationalities and walks of life.
– Sundar