"When I return to my village I will teach how one becomes physically dependent on alcohol and how difficult it is to stop drinking once you start," said Pankaj Kumar, age twenty-two. "I will explain how inhaling smoke from indoor stoves is bad for health, and how chimneys can easily be installed."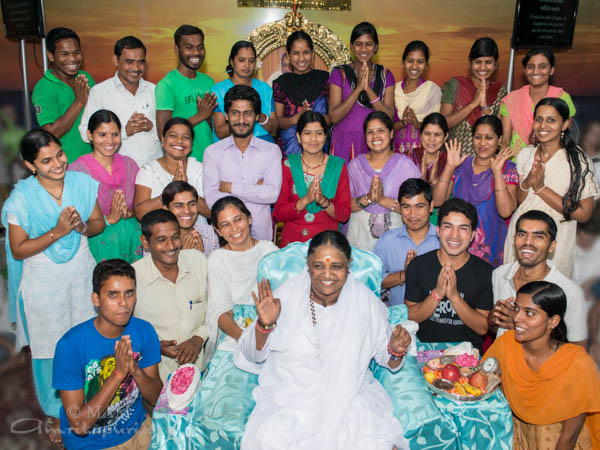 Pankaj, from the flood devastated state of Uttarakhand, was one of twenty one men and women who just completed a one month Health Worker Training Course in Amritapuri as a part of Amrita SeRVe's 101 Self Reliant Villages undertaking. The group was invited from villages in Bihar, Chattisgarh, Rajastan and Uttarakhand. During the course, they learned skills that will help educate their rural communities on health related issues.
Hemalata Bist, a twenty-eight year old mother of two from Uttrakhand, enjoyed the classes, which included a two-week program at AIMS – Amma's hospital in Cochin. There, they learned to recognize the symptoms of diseases and the importance of hygiene.
"We can educate people to get medical help early to prevent illness," Hemalata said. "I will spread awareness on how disease can be prevented by cleanliness."
Participants attended workshops ranging from first aid, basic hygiene, and early detection of diseases, to waste management, compost making, recycling and re-using plastic, building smokeless stoves, and making natural water filters. Participants also learned about pesticides, organic farming and how to start a vegetable garden. Daily yoga classes were also given.
P. Ganga Reddy, from Chattisgharh, was surprised to learn that washing one's hands is an important disease preventative. "I will tell everyone in my village that by washing their hands regularly they can avoid many serious illnesses," she said with an excited smile.
Shyamlal Poyam, twenty-two, also from Chattisgharh, said his village uses a lot of pesticides for farming. He is eager to share what he learned in the course about organic farming and natural fertilizers. "We can shift from using pesticides to natural farming. This will protect our health for the future."
"There is a lack of clean water in my village," Shyamlal added. "People and animals bath in the same river and there are many skin diseases. The AmritaServe teachers showed us how to make water filters from materials found in nature. I am happy to bring this knowledge to my village and show them how easy it is to make these."
Ramavathar Meena, age twenty-six, from Rajastan agreed, "We learned that water filters purify the water and this will help stop the problem of diarrhea in our villages. I will share all of what I have learned here. I will also explain to people that smoking causes cancer  and I will encourage people to stop smoking."
"I will tell how standing water is a breeding ground for malaria carrying mosquitoes," noted Ramavathar, who is also anxious to inform his village about the toxicity of pesticides and smoke from indoor stoves. He is excited to share the solutions that were offered in the class; building stove chimneys, and using organic fertilizer. He did not stop there, "I will inform everyone about how inhaling smoke from burning plastic causes lung diseases. I will encourage people to use cloth bags at the market and not plastic!"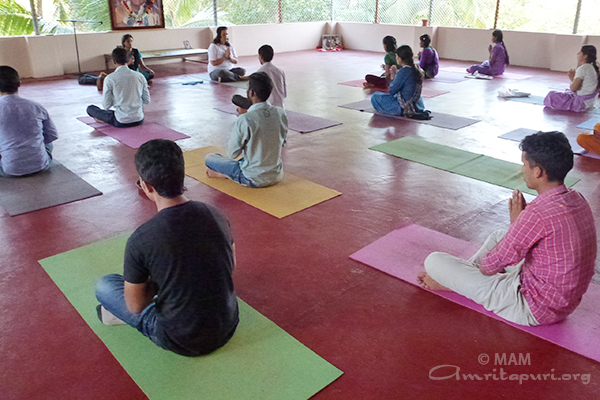 Sunil Mishra, age thirty-seven, from Bihar, said he was very inspired by the Hatha Yoga classes he attended as part of the program in the Ashram. "Practicing yoga is the first step for good health. Yoga is a free medicine. I will go back and teach the youth in my village the Surya Namaskaram!"
When asked how he came to this program, Sunil exclaimed proudly, "Amma adopted my village!" He continued, "I like being in the ashram because everyone is peaceful and smiling! I will do my best to influence the people in my village to live a life with love so we can have compassion towards all living things, foster nonviolence within ourselves, and be truthful to each other."
Shyamalal enjoyed the diversity in the Ashram and he liked, "to see all the people from different backgrounds and countries."
Pankaj said, "I feel as if I was born here. Everyone is very loving to us." Everyone in the course agreed.
Ramavathar added, "The people here in the ashram showed love to us even though they did not know us. That is invaluable."
Hemalata added, "I never dreamed I would feel comfortable traveling so far from my village, but now I want to stay!"
Harrish, twenty-two from Uttarakhand, nodded his head in agreement, "My life has changed for the better from my stay here. I also wish I could stay but I have parents to take care of."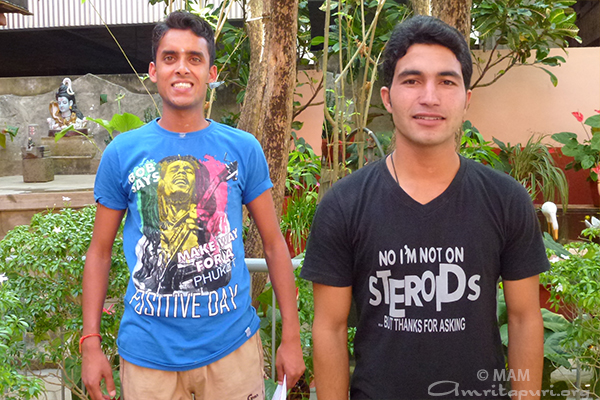 Amma said of the group, "They have come to the ashram with the attitude of asking what they can do for society."
Amma knows well their hearts. Harish promised to "take the light of what I learned here and bring it with me to my village and to dispel the darkness all around."
The group was asked, "What is the most important thing you experienced from your stay here that you will share with others?" Hemalata answered without hesitation, "Amma's darshan! I didn't know Amma before coming here. I had only seen a photo. But now I can go back and speak about Amma. I will remember Amma in every breath and cell of my body. Amma is in my heart."
– Sundar