27 Sep 2014, Amritapuri
Amritavarsham – Amma's 61st Birthday celebrations
Union Home Minister Rajnath Singh applauded the spiritual guidance and humanitarian initiatives of Mata Amritanandamayi Devi as her charitable trust announced a Rs 25 crore relief and rehabilitation package for victims of the devastating floods in Jammu and Kashmir.
The Minister who arrived here on Saturday to take part in Amma's 61st birthday celebrations also formally handed over the keys of the houses that the Mata Amritanandamyi Math has constructed in Rudraprayag, Uttarakhand, for 250 families that lost their homes in the flash floods in June 2013.
Speaking on the occassion he said: "I feel very blessed today to have received an opportunity to meet Sri Mata Amritanandamayi Devi. To be honest, I am here today only for receiving Darshan from Amma and not to give a speech.
"Mata Amritanandamayi Devi is a definitely a spiritual power within whom manifests the Ocean of Love, Compassion and Forgiveness. I personally believe that the solution to all problems of this country, the earth and the entire universe is only possible through Love, Compassion and Forgiveness. These qualities will never arise in a person who is narrow minded and closed in heart but will definitely arise in a person who is broad minded and who has a very open heart. Only such a person will achieve happiness, joy, bliss and even immortality.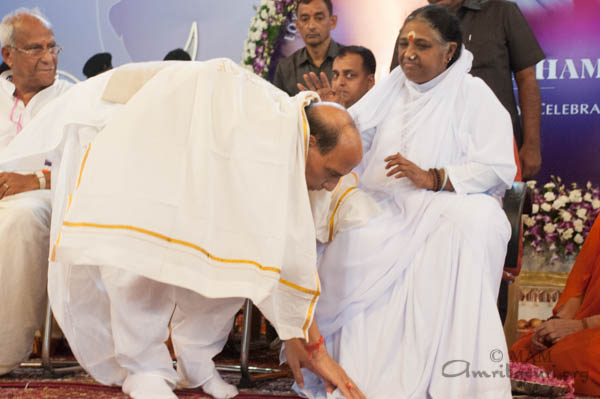 "Our Mother — Mata Amritanandamayi Devi, is so broad minded and so full of love that she not only has concerns for the entire humanity but also for all of the living beings such as animals, birds and even insects in this world. If at all there is a Mother of the universe, then it definitely is none other than Mata Amritanadamayi Deviji.
"Do you know why I call her the Divine Mother? It's because when she was just 6 months of age, she began to walk and talk. When she was 3 years old, she began writing and composing Bhagavan Sri Krishna's songs and poems and by the time she was 5 years old she even started singing them. This is only because of the fact that she is not just a human being but a divine being.
"Our Mother, 'Amma' had imbibed or absorbed the complete essence of Vedanta at a very tender age. The 'Moola Mantra' or the prime essence of Vedanta is, 'yat pinde tat brahmande'. Which means "Everything in our body exists in the universe, everything in the small exists in the big, and everything in me is in you". Amma lives this philosophy.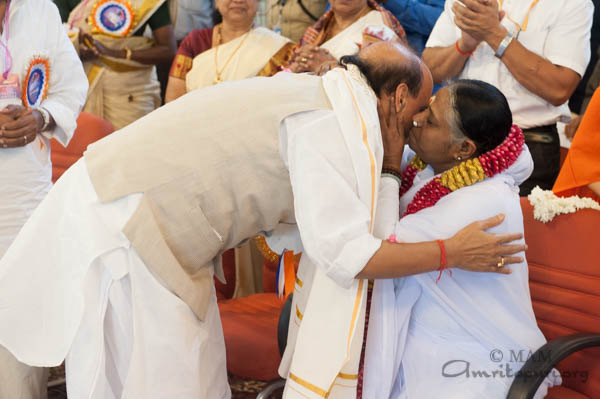 "My prime concern as the Home Minister of India, is about the terrorism, extremism, insurgency problems and the violence that our country is facing. I honestly believe that we can get rid of and get relieved of this violence and terrorism through the grace and blessings of our divine mother Mata Amritanandamayi Devi.
"Sisters and brothers, please believe that not only India which has Amma as the supreme divine power, but also the entire universe will experience supreme happiness, joy and prosperity. I also believe that Love, Compassion, Forgiveness and Selfless Service is the only cure for any type of hurt, wound or disease that exists in this world. This is the message that Amma imparts to India and the entire world. I strongly believe that through Amma's blessings, India will not only become a super economic power but will also become a Super Spiritual Power. And that is when India will become the Spiritual Guru of the entire World and will also proudly say 'The entire world is our family'", said the minister amidst the thunderous applauds of the devotees.
Before concluding his words, Rajnath Singhji offered his prayers to Amma in Malayalam which brought smiles to every one, the huge gathering of devotees at the cultural meet (Jayanthi Samelanam) organised on the occasion of the 'Amritavarsham 61' celebrations.