27 Sep 2014, Amritapuri
Amritavarsham – Amma's 61st Birthday celebrations
As part of Amma's dream that everyone in the world should have a solid roof over their head, the Mata Amritanandamayi Math has constructed more than 45,000 homes for the homeless in more than 75 locations across India since 1998. Often, in response to floods, earthquakes and other natural disasters, entire villages are reconstructed at a time.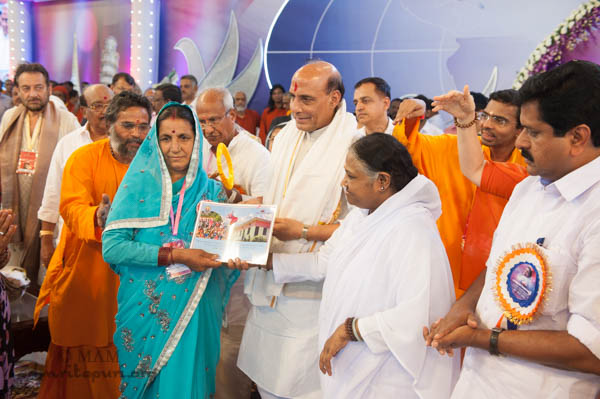 This year, the Math has constructed 500 houses in various locations in Kerala. And, in Uttarakhand, where the Math launched an Rs. 50-crore relief-and-rehabilitation package for flooding victims in 2013, the Math is constructing 250 houses. Sri. Rajnath Singh, the Hon. Union Minister for Home Affairs bestows keys and certificates to beneficiaries of this project, some of whom have come all the way from Uttarakhand.