23 April, Thiruvananthapuram, Kerala – Bharata Yatra 2013
During Amma's visit to her ashram in Kaimanam, Thiruvananthapuram, Shri Uthradam Thirunal Marthanda Varma, the Maharaja of Travancore and head of the Travancore royal family, presented Amma with the first-ever Vishwaretna Puraskar (Gem of the World Award), bestowed by newly constituted Hindu Parliament.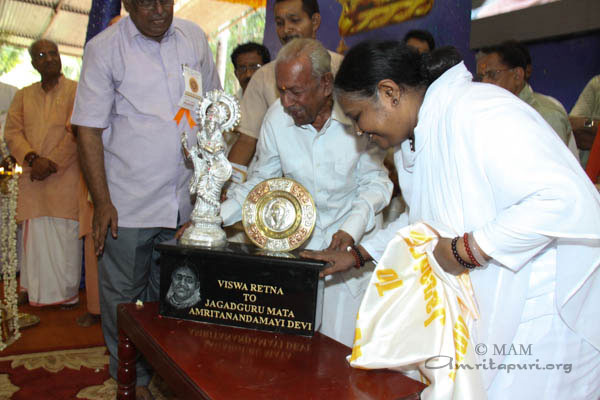 Several officials of the Parliament were on hand to share their reflections in giving the award. The stage was also populated with a wide-ranging constellation of government officials and other dignitaries, including Assembly Speaker G Karthikeyan, Health Minister VS Sivakumar, Sri Ramakrishna Math (Trivandrum) President Swami Lokahitananda, SNDP General Secretary Vellappilly Nateshan and many representatives from different social organizations around the state.
Hindu Parliament General Secretary EP Sugatan explained, "The Hindu Parliament is a congregation of 108 organisations of different strata of the society. Our aim is to initiate a new renaissance in Kerala in the light of Amma's life and teaching. Amma doesn't need any award. God doesn't need an award. By giving the award, in fact it is we who are honoured. The need of society now is brotherhood, love and spirituality. This movement aims to take steps in the light of spirituality. Just by going to the temple, one cannot become spiritual—this we have realized. With Amma's blessing, the Hindu Parliament wants to go forward, taking all the strata of the society, all lower and upper castes, bringing all along for the renaissance."
Hindu Parliament President Shankaran Kutty Nair said, "Hindus believe that Vishnu is sustainer of the world. Here in front of us is an incarnation who preserves and sustains individuals in their day-to-day life. Whomsoever comes for a job, for a house, to cure a disease … Amma is the only answer; not the government. She has been active for the last 36 years, providing anything and everything for the society—we can't measure it all. Providing relief to the common man, who with loneliness, mental problems, other problems, approaches Amma to get satisfaction. This is the justification for presenting the Vishwaratna Puraskar to Amma."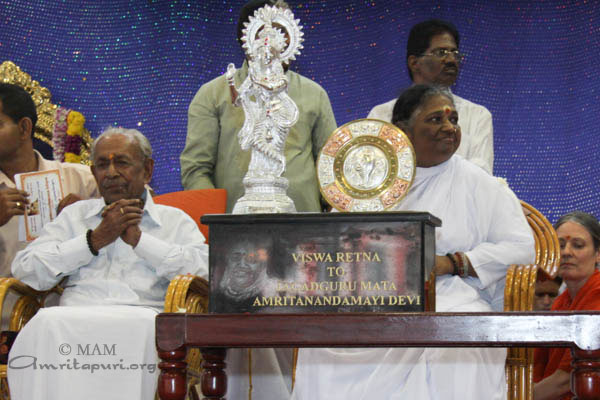 And in presenting Amma with the award, the head of Travancore's royal family Uthradom Thirunal Marthanda Varma offered only the highest praise for Amma. "Amma is trying to show the path for us to go in dharma, to go in peace. She is showing us the path for our action, for our mind, and in the soul. In trying to talk about her compassion, I am speechless. This small offering (the award), Amma has accepted. I have not received more joy, happiness and peace than this before. Whatever we hear from Amma here today should not go in one ear and out the other, but go into our head, and into our heart. We should meditate on it, accepting Amma's thoughts, becoming Amma's disciples and servants. Let us strive to take Bharat (India) forward and forward. I am praying to Amma in this way."
After being offered the award, Amma bowed in front of the award trophy. Swami Amritaswarupananda spoke on behalf of Amma, saying, "Amma offers this award to her children."
– Sakshi