18-19 April, Chennai – Bharata Yatra 2013
On arrival in Chennai, Amma continued the tradition of the tour, serving Prasad to the assembled devotees, as well as sharing jokes, spiritual stories, and practical advice with them. To the delight of the devotees, Amma made several comments in their mother tongue of Tamil as well.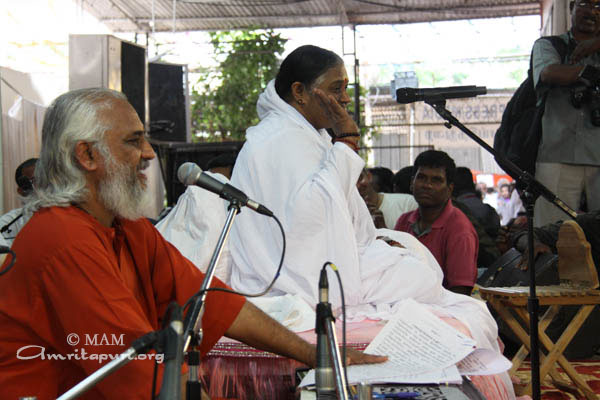 One devotee asked Amma, "Whenever I come to the ashram, you are sitting like this amongst your devotees, smiling and giving darshan. Amma, when do you sleep?"
Amma replied simply, "When you have all awakened, Amma will sleep."
Continuing a second tradition that has unfolded on this tour, Amma gave many practical instructions to the brahmacharis in charge on how to make adjustments to the programme venue in order to accommodate more devotees and make them more comfortable. In the case of the Chennai ashram, an old bookstall structure was demolished over night in order to make space for more of Amma's children to sit in the shade and participate in her programme.
During Amma's programmes in Chennai, His Excellency the Governor of Nagaland, Dr Ashwini Kumar met Amma and participated at the 23rd Annual celebrations of the Chennai Brahmasthanam.
Speaking on the occasion, he said, "This is a very special day for two reasons- firstly today is Ramanavami and we are very lucky have Amma's darshan. Secondly my wife and I have had the good fortune to garland Amma on your behalf and present a shawl on behalf of the people of Nagaland. It was many years ago, that I had first read about the charitable work being done by her. Two decades later I have had the good fortune to meet her today. The enormous charitable work done by Amma is appreciated world over. It was rightly said by the noble laureate Mohammed Yunus that Amma has done more work than many governments have ever done for their people. Her contribution is enormous."
Various renowned Karnatic musicians like   Dr R Ganeshan, Mahesh Vinayakram, Neyveli Santhana Gopalan, Malgudi Subha Umayalapuram Sivaraman (Mridamgam), Lalgudi GJR Krishnan (Violin),  N Ravikran (Chitra Veena), Uma Shankar and team (Ghatam), Anuradha Sriram & Sriram Parashuram (Hindusthani calassical), Udayalur Kalyanaraman (Sampradhaya bhajan) performed for Amma as she gave darshan.
"It is believed that Nandikesha plays Mridangam in front of Lord Shiva and Parvati. I feel like the same when I play in front of Parashakti, our Amma. I would like to come and play for Amma's 60th Birthday. Amma, please bless my family and my art and all of us" said Umalaylpuram Shivaraman on the mike after his 30 minute performance on Mridangam.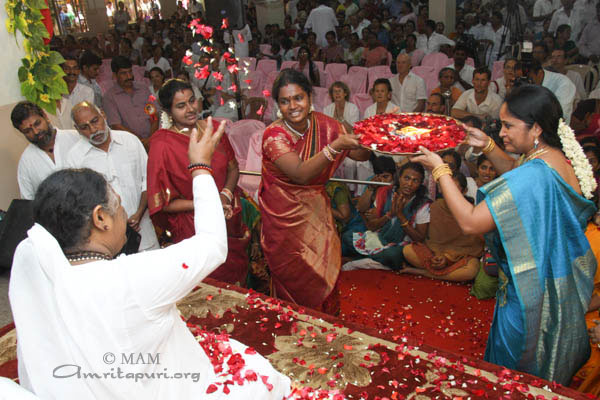 During the two-day celebrations Amma gave darshan to countless people who gathered despite the sweltering heat in Chennai. For nearly 48 hours continuously, the Chennai ashram was packed to overflowing with Amma's children who patiently bore the crowds and the heat in order to enjoy a few moments in her arms and imbibe her divine energy. Amma's children know the secret to true happiness, as taught by Amma – air-condition the mind, taking refuge in the shade of Amma's blissful presence.
Darshan ended after 5:00 in the morning as Amma concluded her darshan by singing joyfully amidst her children.
– Kannadi