22 Jan, Madurai, Tamil Nadu – Bharata yatra 2011
Madurai is a temple city, home to some remarkable temples including the famous Meenakshi temple. Amma has been paying visits to this city since she was a young girl, even before she began publicly giving darshan. Today Amma once again returned to Madurai and gave a public program that filled the Madurai College Grounds to their capacity.
Hours before the start of the program people streamed into the venue, waiting patiently to ensure themselves good seats for Amma's satsang, bhajans, meditation and darshan. By the time Amma arrived on the stage the massive venue was overflowing with people.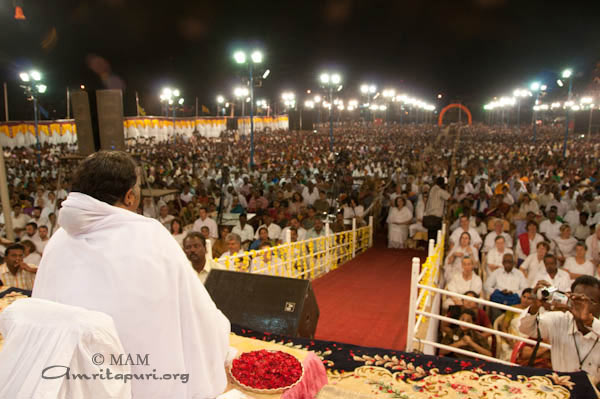 Chitra Venkataraman – Chief Justice, Chennai High Court; Thenmozhi Gopinathan – Mayor, Madurai; SS Krishna Murthi IPS – IG South Tamil Nadu and Swami Paramananda from Vivekananda College were amongst the honorable guests welcoming Amma.
Welcoming Amma to the city, Chitra Venkataraman, the Chief Justice, said "There is a special feature that is attributed to goddess Meenakshi, the deity presiding over this city. A fish will always watch over it's children without even blinking the eye. Likewise, the Meenakshi of this city continuously blesses people, without the slightest break or hesitation. We all see the incarnation of goddess Meenakshi right in front of us now. Just by the glance of her eyes she is able to embrace all the thousands of people gathered here. This is the greatness of the divine mother. Not everyone can do this, definitely not.
Only with pure love, affection and compassion is it possible to merge the jeevatma (individual self) with the paramatma (universal self). This very concept is displayed through Amma's presence and I personally experienced it right here on stage. From this huge gathering here tonight, each and everyone is going to experience this."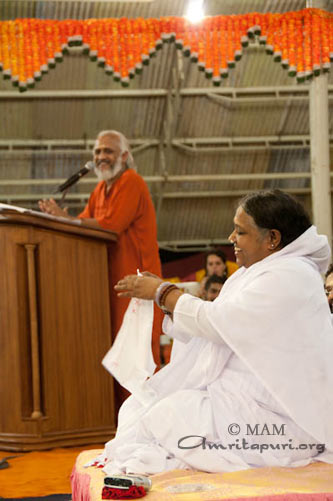 During the public function Amma gave out handkerchieves to students in order to spread awareness about the ABC Initiative for cleanliness and public health. Chitra Venkataraman helped Amma to distribute the handkerchieves on the stage. Later during darshan Amma gave away these handkerchieves to all the youngsters and students.
Recycling stations were set up all over the venue, which were operated by both Westerners and Indians, young and old alike. The aim of this campaign is to encourage people not to litter on the road and help them sort and separate the waste.
People were waiting all throughout the cold and windy night to be embraced by Amma's eyes and arms. At 8'o clock, thousands were still waiting for Amma's Darshan. Amma asked on the mic to the volunteers, to move the queue to the shade so they will not have to wait in the sun. It took another two more hours for Amma to embracing all those came at Madurai.
– Kannadi
"Meen" means "fish", "akshi" means "eye"