21 January, Ramanathapuram, Tamil Nadu — Bharata Yatra 2011
Amma in Ramanathapuram
For the second time in two years, Amma visited Ramanathapuram for a public programme.
Amongst the dignitaries welcoming Amma were K Hasan Ali, MLA Ramanathapuram, Swami Parananda, vice president, Ramakrishna Tapovanam, Tirupraithurai and the raja of Ramanathapuram, Kumaran Sethupathy.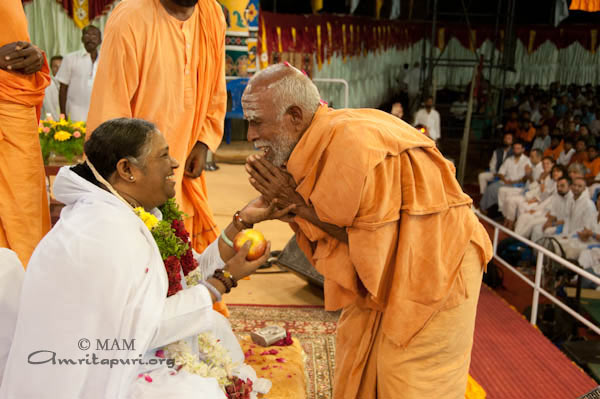 During his welcome speech K Hasan Ali said:
"Just after celebraing the Pongal festival Amma has come into our midst to double the joy. Since ancient times mahatmas and spiritual people like Swami Vivekananda and kings like Krishna Deva Rayar have visited Ramanathapuram. Now Amma has come here again, and just by looking at your faces I can tell how happy this has made you.
Why is Amma respected so much? It is due to her dharma. What is dharma? It is giving a house to live, clothes to wear, building a road to walk, providing water to drink, establishing schools to study and creating awareness about public health, cleanliness and hygene. The one who is giving all these things is a true dharma devata (goddess of dharma).
Amma, you have given support to the downtrodden in this area in abundance, yet I plead you to continue raising the standard of living of the poor by building houses, providing healthcare and educational support.
You may wonder why I ask Amma for so many things, even though she das already given in plenty. If you see your mother you may ask her for toys, even though you may have asked her for a chocolate before. She will never say no."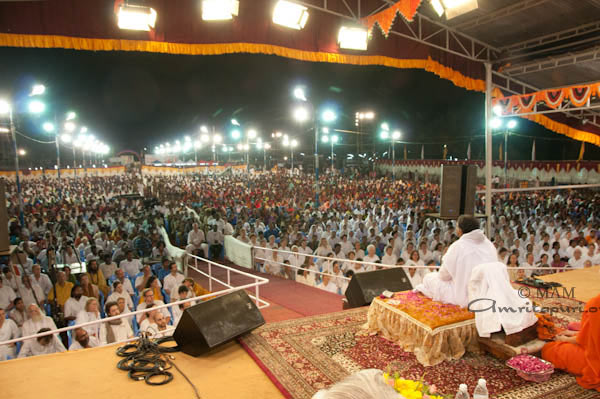 Next Swami Parananda gave his welcoming speech:
"We all know that Amma does a lot of good by building houses, schools and colleges. But not many know that at the same time, she is removing bad habits and bad character in people. Only God can do this. Let us pray that by Amma's grace we all become sadhaks and jnanis."
As part of the Amala Bharatam Campaign, Amma gave away handkerchiefs to all the children who came for darshan, asking them not to spit or urinate on the roads and public places.
The evening continued with Amma's satsang, bhajans, guided meditation and darshan. Even when Amma stood up at 7.30 am, the darshan had not yet ended.  When Amma walked from the stage to her vehicle she called another 200 people for darshan who had just arrived at the venue.  She then proceeded to give them all darshan standing on the steps to the doorway of her camper before leaving for Madurai.