On 19 January, Tutucorin, Bharata Yatra – 2011
Amma held a public program in Tutucorin. This was Amma's first visit to the coastal city.
During the public function Amma launched the Amala Bharatam Campaign in yet another city. In order to encourage the people of Tutucorin not to spit on the ground and thus increase the spreading of contagious diseases Amma distributed handkerchieves to all the people who came for darshan.
Welcoming Amma to the city, industrialist Dinakaran said, "we have heard about Sri Krishna as 'adharam madhuram, nayanam maduram' etc. But here in Amma we can experience that. When she calls us darling son/daughter we feel deep within the sweetness of her words- adhram madhuram',  her singing is sweet, her embrace is sweet. … How blessed are we to have Amma in our city!"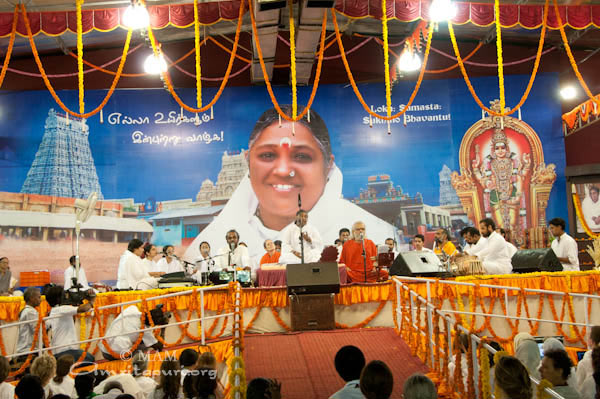 Amma's satsang was translated into the local language Tamil. She sang only Tamil bhajans.
Leading by example, Amma's Western devotees had set up recycling stations all over the program grounds to assist in the sorting and processing of the waste.
As darshan came to an end at 8.30 next morning. the compound was left clean and the hearts of the devotees filled with peace and love.