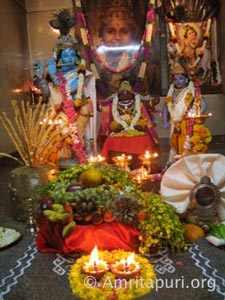 April the 14th, 2000 was new year's day in the Hindu calendar. Amma was away on Her tour of North India and the residents used this time to completely restore the old Kalari (temple), where Amma first started Krishna Bhava in 1975. The roof was replaced and internal renovations were carried out.
Flowers, harvest fruit displays, streamers and decorations were made by the ashram residents. The children and old people, students and monks, all worked together under a bright night sky and with lights hanging in the trees, the preparations took on a truly festive air. Everyone looked forward to the morning's 'first sight' (In Indian tradition at the outset of any new venture God is remembered. This is especially true for the beginning of the new year. So traditionally things considered to be auspicious, reminding us of the bounteous blessings of God are the things that are seen first of all on New years day.)
At 4 a.m. in the morning the tiny veranda and garden in front of the Kalari thronged with devotees. Some sat in meditation, others stood prayerfully waiting their turn to visit the shrine room. The day had not yet dawned as the atmosphere rang with the holy sounds of the gong and conch, announcing the moment of the 'first sight'. The clamor lasted as long as it took for one and all to offer their salutations to the beauty of the Lord's creation.
Philosophically, the meaning of the rite is that the goodness of God, which we behold in the shrine room, decorated with the harvest of his gifts to us, should stay with us throughout the year, that we might always see goodness in all. Between the arrangements of fruit and flowers a mirror is placed, so that as one beholds the auspicious sight, one catches a glimpse of one's own higher Self.