28 August 2005 — Alappad Panchayat, Kollam District, Kerala
Artist's rendition of the bridge that will connect Alappad and Vallikkavu

Anyone who has ever climbed up to the roof of the 16-storey ashram flats knows how breathtaking the view is. From that height, two things become clear: the ashram possesses the only multi-storeyed buildings as far as the eye can see, and the ashram is almost completely surrounded by water.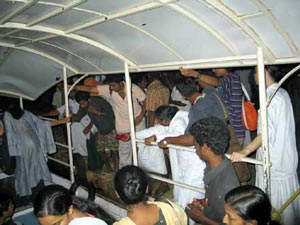 When the tsunami hit on December 26th, everyone from the surrounding villages rushed to Amritapuri, knowing it to be the only true place of refuge. Amma then directed everyone to be transported across the backwaters via ashram boats.
On March 29th when the government issued a warning of a possible second tsunami, the scene repeated itself (news). Because of the limited number of boats available and the fact that so many people depended on the Ashram to get them across, it took more than three hours to transport everyone to the mainland. Fortunately, nothing happened, but Amma took note of the long time it took to evacuate and said that a more efficient way to transport people to the mainland must be established.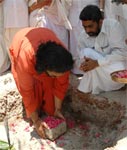 In the end Amma decided that a footbridge had to be built, with the goal of being able to evacuate all of Alappad Panchayat within 30 minutes.
Swami Amritaswarupananda laid the foundation stones for the new bridge. Extending from the Ashram jetty to the mainland, the bridge will be 100 meters long, five meters wide and seven meters high.
Currently, Alappad is connected with the mainland via only one bridge, which is two kilometers from the southern tip of the penninsula. The government has started constructing another bridge at the northern end of Alappad. Alappad is 17.5 kilometers in length. The ashram is located in the middle.
—Tulasi