29 March 2005, 12.30 a.m. — Amritapuri
At 10:30 p.m. on 28 March, the Ashram received the news that there had been another earthquake off the coast of Indonesia, registering 8.2 on the Richter scale.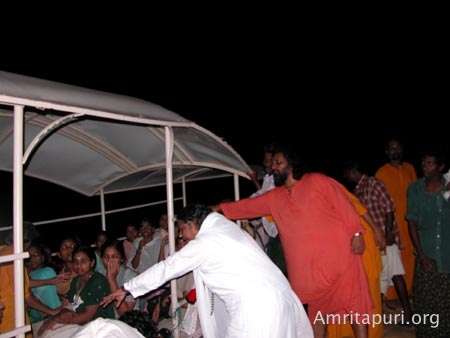 Amma immediately called the Ashram to alert and sent word to the villagers to evacuate the Alappad Panchayat peninsula, to which the Ashram is home.
Amma sent Ashram trucks and buses out into the village to shuttle the villagers to various jetties along the backwaters.
Four buses, three trucks, six cars and one ambulance were used for transportation in the evacuation operation.
Amma then went to Ashram boat jetty and began personally seeing that all the villagers, students, devotees and ashramites were getting across the backwaters safely to the Amrita University campus.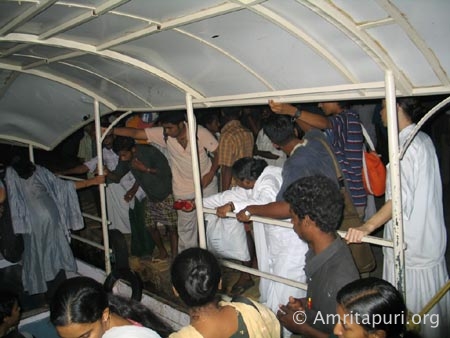 amma helping people to get into the boat
Ram and Lakshmi, the Ashram elephants, have been shifted to the safety of the temple.
Food preparations for evacuees immediately got underway.
The Ashram has also evacuated the villages it adopted in Nagapattinam, Tamil Nadu after the last tsunami.
As of this posting at 12:35 a.m., Amma is still at the jetty seeing people across to safety.
Update 2.30 a.m All villagers, devotees and students of the university are evacuated from the village. Amma, swamis and few ashramites are staying backat the ashram. Fear of tsunami attack is over. All will be back in the morning.
More Photos



Tsunami Alert
Amma evacuates the villagers across the backwaters on a tsunami alert.
28-Mar-2005, Amritapuri