"Like the spring travelling around the globe, Amma visits her devotees in their own cities and towns every year."
Amma @ Amritapuri
Where is Amma now?
Amma's program dates and her visits to cities around the world.
Amma is in Amritapuri now. Darshan days are all  Wed, Thu, Sat & Sundays.
Amma will here in Amritapuri ashram till the 27th of September. Europe Yatra 2015 will start on Oct 4th. Click here for the program details.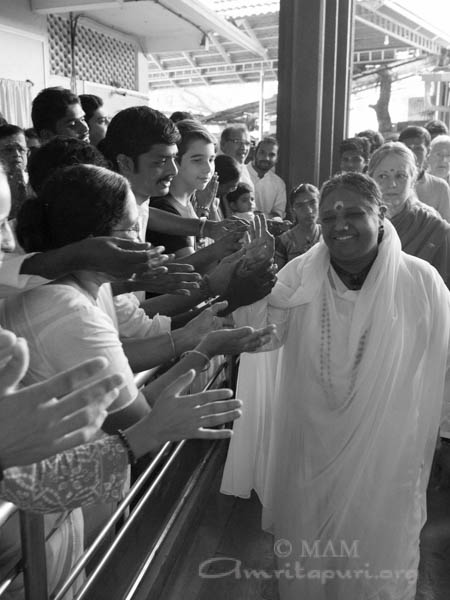 Festival Days - 2015
September
04 Friday  /
ॐ : Karthika Puja
05 Saturday  /
Krishna Janmashtami
17 Thursday  /
Ganesh Chaturthi
27 Sunday  /
ॐ : Amma's Birthday
October
02 Friday  /
ॐ : Karthika Puja
13 Tuesday  /
Navaratri begins
21 Wednesday  /
Durga Puja begins
23 Friday  /
Vijaya Dashami
November
09 Monday  /
Dhan Teras
10 Tuesday  /
Diwali
12 Thursday  /
Gujarati New Year
13 Friday  /
Bhai Dooj
23 Monday  /
Tulsi Vivah
25 Wednesday  /
ॐ : Kartika Poornima
25 Wednesday  /
ॐ : Karthika Puja
December
17 Thursday  /
Skanda Sashti
21 Monday  /
Bhagavad Gita Jayanthi
23 Wednesday  /
ॐ : Karthika Puja
24 Thursday  /
Datta jayanti
25 Friday  /
Christmas
31 Thursday  /
New Year Eve