Yatra: where is Amma now?
Amma's program dates and her visits to cities around the world.
Like the spring travelling around the globe, Amma visits her devotees in their own cities and towns every year.
Amma in Amritapuri Ashram
Amma is on Bharata Yatra. Visiting Mangalore, Kozhikode, Palakkad and Trivandurm from 14 Feb. See more details here.
Amma will be in Amritapuri Ashram from 27th Feb. Darshan on all Wed, Thu, Sat & Sundays.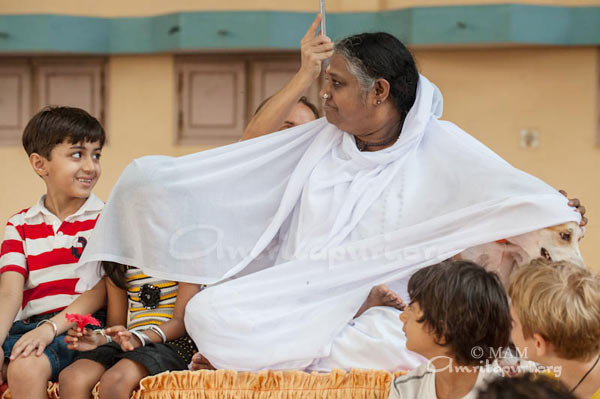 - – - – - – - – - – - – - – - – - – - – - – - – - -
Amma's Yatra Calendar
Festivals days of 2014
Jan 01, Wed – English New Year
Jan 11, Sat – Karthika Puja
Jan 13, Mon – Lohri
Jan 14, Tue – Makarsankranti / Pongal
Feb 04, Tue – Vasant Panchami
Feb 07, Fri – Karthika Puja
Feb 27, Thu – Maha Shivaratri
Mar 07, Fri – Karthika Puja
Mar 17, Mon – Holi
Mar 31, Mon – Ugadi / Gudi Padwa/ Telugu /Hindi New Year
Apr 03, Thu – Karthika Puja
Apr 08, Tue – Ramanavami – Birthday of Sri Ram
Apr 14, Mon – Baisakhi / Vaisakhi / Vishu
Apr 15, Tue – Bengali New Year
Apr 15, Tue – Hanuman Jayanti
May01, Thu – Karthika Puja
May 02, Fri – Akshaya Tritiya
May 14, Wed – Buddha Poornima
May 28, Wed – Karthika Puja
Jun 24, Tue – Karthika Puja
Jul 12, Sat – Guru Purnima
Jul 23, Wed – Karthika Puja
Jul 26, Sat – Karkitaka Vavu
Aug 01, Fri – Nag Panchami
Aug 10, Sun – Raksha-Bandhan
Aug 18, Mon – Karthika Puja
Aug 29, Fri – Ganesh Chaturthi
Sep 07, Sun – Onam
Sep 14, Sun – Karthika Puja
Sep 15, Mon – Krishna Janmashtami
Sep 25, Thu – Navaratri begins
Sep 27, Sat – Amma's Birthday
Sep 30, Tue – Durga Puja begins
Oct 03, Fri – Vijaya Dashami
Oct 11, Sat – Karthika Puja
Oct 21, Tue – Dhan Teras
Oct 23, Thu – Diwali
Oct 24, Fri – Skanda Sashti
Oct 24, Fri – Gujarati New Year
Oct 25, Sat – Bhai Dooj
Oct 29, Wed – Surya Sashthi
Nov 04, Tue – Tulsi Vivah
Nov 06,Thu – Kartika Poornima
Nov 8, Sat – Karthika Puja
Dec 02, Tue – Bhagavad Gita Jayanthi
Dec 05, Fri – Karthika Puja
Dec 25, Thu – Christmas
Dec 31, Wed – New Year Eve
Festival days of 2015
Jan 01 Thu – Karthika Puja