April 22-23, Sydney, NSW – Australia Yatra 2019
Amma held two days of programs at the Sydney Boy's High School in Sydney.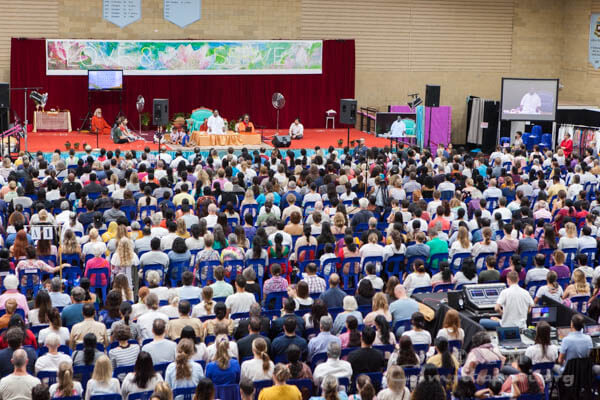 The huge gymnasium, which has served as the program hall during previous visits by Amma, was filled with eager devotees from all across Australia.
Amma was welcomed by Mr. Chandru Appar, Acting Consul General of India. Addressing Amma and the gathered crowd, Mr. Appar said, "It is my personal privilege to be here. Thank you, Amma, for showering your blessings on Australia. Today, the world has seen many unfortunate incidents, and what is needed in the world today is an embrace of love from Amma. Amma's contributions have touched millions of lives and I think millions more are waiting to meet you. We are truly fortunate to be here today."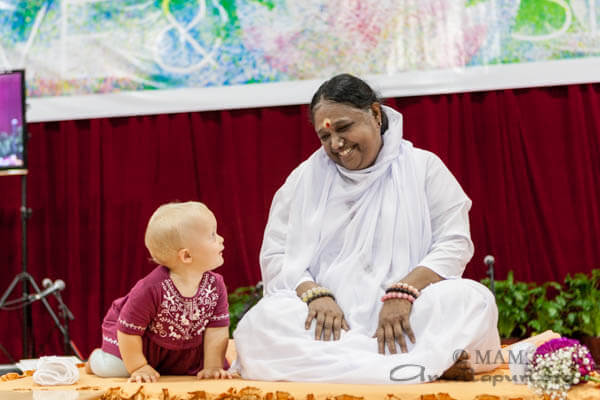 Amma then gave satsang. In her remarks, she said, "We are constantly trying to get what we desire. We should train ourselves to give and share sometimes, as well. We all want a family with whom we can share our sorrows and comfort us. By treating someone in sorrow like family today, we are creating future relatives and support for ourselves… we like to see smiling faces around us. Similarly, others also expect a smiling face from us. Only if our hands have reached out to stop someone from falling will other hands reach out to support us when we fall. When we understand that it is sweeter to give sweets than to eat them, we begin to enjoy the sweetness of life."
The serene peacefulness and calmness of the large gathered crowd awed a first-time attendee who was overheard saying, 'It is interesting to note everyone is smiling happily without having had a drink!" Indeed, Amma teaches us that the divine elixir is right within ourselves – and not something external.
Amma also sang bhajans before giving darshan to everyone present. The second evening included a prayer ceremony for world peace followed by Darshan that went through the evening to early the next morning.
Sydney had blessed with Amma's presence yet again for the 30th year.
-Tulasi