16-20 April – Melbourne, VIC, Australia Yatra 2019
Amma held two days of public programs, a retreat, and a special program for World Peace followed by Devi Bhava at the Sandown Racecourse in Melbourne.
The Melbourne programs are usually one of the most relaxed stops on the Australian Tour. In Melbourne, the weather is picture-perfect and the programs make it more peaceful and joyful.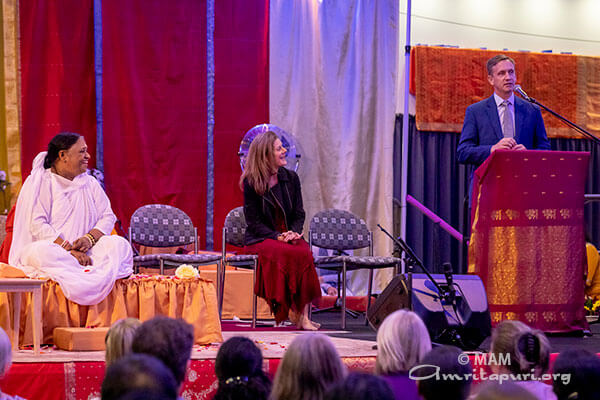 James Conquest, the representative of MA Center in Australia, welcomed everyone to the programs. Noting that Amma has been coming to Australia for 30 years, the crowd greeted Amma in special gesture by waving hundreds of small Australian flags in a sea of appreciation, love and gratitude.
Julian Hill, MP Federal Parliament Member for Bruce welcoming Amma to the country addressed the devotees: "Thank you, everyone, for inviting me to be here and to share a few words of welcome, most importantly welcome to Amma. I have been in this room for so many events, but I can say tonight that it has the most beautiful energy of any event that I have been to. We can feel the love between you, Amma, and the people here. Thank you for your message for over thirty years of love and life of service and devotion. I think the message that you bring transcends any one single belief system – that self-realization through love and service and devotion and compassion to other human beings is so welcome anywhere at any time, particularly here, now in Australia. Thank you for sharing your message of love with us and being here with us again for the 30th year."
Sonya Kilkenny, MP. State Member for Carrum also paying respect to Amma and spoke these words: "What an honour to welcome Amma once again to Victoria. To Amma, on behalf of the Premier of Victoria, and the Minister of Multicultural Affairs and the Victorian government, I extend to you the very warmest of welcomes. You are a true fountain of love and compassion, inspiring millions to follow in your footsteps most notably through the creation of Embracing the World, and teaching us that each of us has a responsibility to lend a helping hand, and teaching us to create more space in our hearts. It has also been my pleasure to work directly with the MA Center to help provide breakfast to schools in this district so that students go to school with full tummies. Thank you, Amma for all that you do and for being here."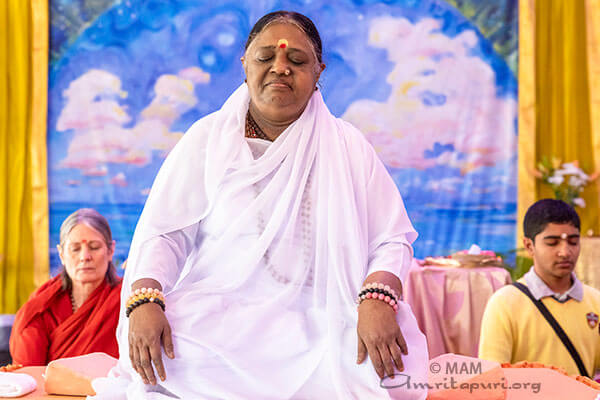 On her way out of the hall after each program, Amma stopped to watch the huge flocks of birds that were dancing above the sprawling racecourse lawns. Her eyes follow those birds, seemingly in silent communication with them.
In addition to Darshan, the Melbourne retreat was a celebration filled with meditation sessions, yoga classes, a Q&A session with Amma, Amma serving dinner to all, and inspirational music and cultural performances. During her Satsang Amma said, "Vision is not what we see externally through our physical eyes. It is the perception born from our understanding of life and situations. This vision should be pure and without blemish. The solutions to most of our internal and external problems lie in removing our incorrect vision or wrong perspective. It is our duty to make efforts towards this end."
-Tulasi