"Amma's spiritual consciousness enfolds all of humanity,the entire world is her field of action"
21 March — Ahmedabad, Gujarat – Bharata Yatra 2007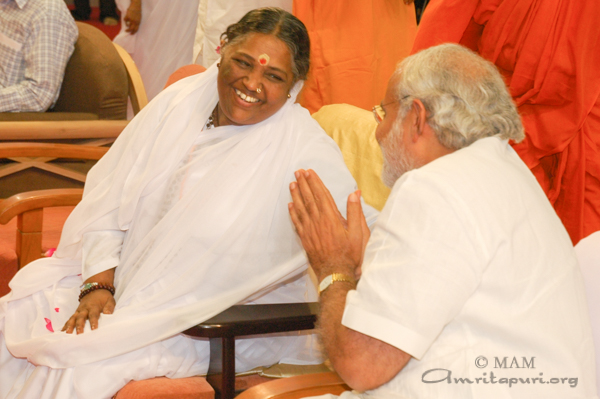 Amma was welcomed to her program at Gujarat Education Society Grounds in Ahmedabad by Sri. Narendra Modi, the Honourable Chief Minister of Gujarat. Modi praised Amma for her service to mankind and for the inspiration she is providing to the world. He also sought her blessings for the prosperity and happiness of the people of Gujarat. "Kerala may be the centre of Amma's activities," Modi said, "but her spiritual consciousness enfolds all of humanity, the entire universe is her field of action."
"The auspicious festival of Navaratri1 is currently taking place," Modi began. "During Navaratri, we worship Shakti [the feminine aspect of God]; we offer obeisance to the Mother. And on such an auspicious occasion, Amma's arrival in Gujarat fills us with new inspiration. On behalf of the people of Gujarat, I welcome Amma to Gujarat{sthalapurana}."
"Blessed Amma's concept of spirituality is one of selfless service to humanity," the CM continued. "As Mahatma Gandhiji's concept for freedom was in his cotton-spinning wheel and spool2… as Swami Vivekananda's concept of spirituality was in seeing and serving God in the poor throughout Bharat… as Adi Shankaracharya's concept of spirituality was in uniting all of India under one culture… In a similar way, Blessed Amma's concept of spirituality lies in the roots of her spiritual activities [adhyatmika pravriti], her restlessness to serve God through the poor, to serve the poor and sorrowful. Every moment, throughout all of India, wherever help is needed by the poorest of the poor, Amma is providing.
"In Kutch, when the earthquake [2002] took place, under Amma's instructions, from every nook and corner of our country, devotees and disciples landed in the land of Gujarat to help the people. And they remained here until the entire work was completed. Until the work was completed, they did not leave this land. Inspired by Amma, this entire army of sincere people dedicated to the service of mankind has arisen. People of all sections of society remain at the lotus feet of Amma.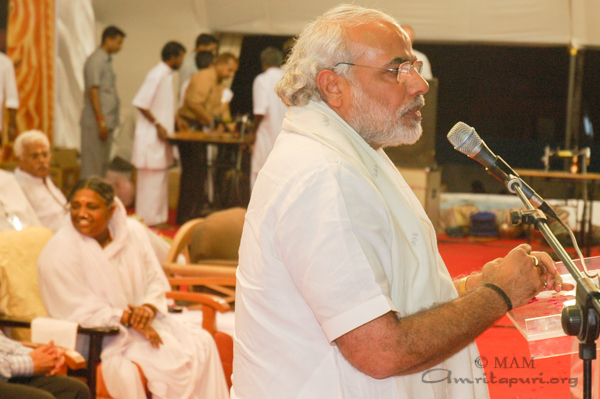 "There was a time in this country, when there was a terrific line of distinction between higher-lower, touchable-untouchable. Today, we should take pride in the fact that a person like Amma, who was not born in one of society's upper echelons, has become the centre of sraddha [faith] and prem [love] for even the upper echelons of society. So high must be the spiritual heights that Amma has attained! One Valmiki was born from the womb of a shudra [member of manual labour caste], regardless he became Sage Valmiki and, as such, has provided us with inspiration for thousands of years. In the same way, even though Amma born in an ordinary family, she has attained to the heights of spirituality, attained realization and with that spiritual power, has begun a seva yajña [a rite of selfless service involving the contributions of a large section of society] and awakened the consciousness of the people to the importance of such selfless service.
"At the roots of all her actions, there are schools, there are hospitals, there is the taking care of the poor and destitute mothers, of the ordinary people… In order to see that the basic requirements are met—whatever those requirements may be—she is putting forth effort without end. Kerala may be the centre of her activities, but her spiritual consciousness enfolds all of humanity, the entire universe is her field of action.
Kerala may be the centre of her [Amma's] activities, but her spiritual consciousness enfolds all of humanity, the entire universe is her field of action. _ Narendra Modi
"Every year Amma arrives in this land of Gujarat and we receive her blessings. This land of Gujarat—through the help of the saints, rishis and human beings—should always progress forward. May clouds of sorrow never shroud this land of Gujarat. May our farmers be happy, may our villages always prosper, may a poor man never be forced to turn to begging, may he instead become strong and self-sufficient. May Gujarat prosper and be happy. May our citizens always be content. May there always be progress… We seek these blessings from Blessed Amma. If this is the purusartha [goal] of all of us and if we put forth effort, we can make this Jai Jai Garvi Gujarat a Jai Jai Garvi Gujarat in the true sense.3
"Once again, I welcome Amma to this land of Gujarat. We are always receiving her blessings, we are always receiving inspiration from her to serve God in the form of the poor. I offer my pranams to her divine feet. To all the karma-sevaks [people engaged in selfless service] who are accompanying Amma, to her devotees who have joined in this seva out of spiritual inclinations, this seva yajña of theirs—I appreciate them for all their efforts and the attitude of surrender in each spiritual aspirant. Amma has started a whole new parampara [line of spiritual education]. It is an addition worth worshipping. I offer my heartfelt gratitude to all the people who are accompanying her.
"Jai Jai Garvi Gujarat! Jai Jai Nirmala Gujarat!"
The CM then helped Amma distribute checks to 15 new enrolees of the Ashram's lifetime pension program for widows and disabled people–Amrita Nidhi. He also distributed sewing machines along with Amma to 10 impoverished women with the aim of expanding their financial horizons.
Gujarat's Honourable Minister of Industries, Sri. Anil Patel, also participated in the formal program, releasing a new Ashram publication—a Gujarati translation of Immortal Wisdom, Volume 2, a collection of Amma's teachings.
—Tulasi
*************
1 In Gujarat, two Navaratris are celebrated—one in the month of Chaitram and one in the month of Aso. Literally meaning "nine nights," Navaratri is a festival wherein the Divine Mother is worshipped in various forms for 10 days and nine nights.
2 A reference to Gandhi's svadeshi movement of empowering India through self-reliance and encouraging Indians to make and buy Indian products.
3 Jai Jai Garvi Gujarat is a traditional way of referring to the state. It roughly can be translated as "This victorious and proud Gujarat."