8 March — Mahendra Hills,  Hyderabad-Secunderabad, Andhra Pradesh — Bharata Yatra 2007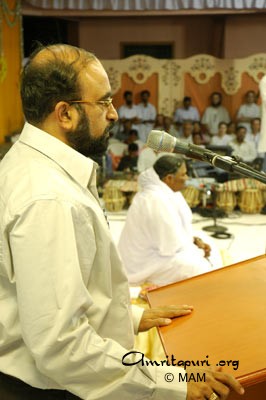 Just before Amma's first evening program in her Secunderabad ashram, she gave audience to the area's district collector and magistrate, R.V. Chandravadan. During that meeting, Chandravadan put forth several requests to Amma on behalf of the Hyderabad District Administration—all of to which Amma readily agreed. At the start of Amma's program, Chandravadan then shared with all the people gathered for darshan the results of his meeting—chiefly education and heart surgeries for Hyderabad's street children.
"'Amma' has almost become another word for love, compassion and concern—concern for the unfortunate, for those who have been discriminated against, neglected and marginalized in society," the district collector said from the dais. He then expressed the Government of Andhra Pradesh's gratitude for the support Amma has given in the form of the thousands of homes the Ashram has constructed for the homeless throughout the state—including Hyderabad's Gudimulkipur and Filim Nagar, and Cuddapah's Pradhatur.
Chandravadan then announced that Amma had agreed to sponsor the educations of 50 children from the local street community in the local Amrita Vidyalayam as well as provide computer literacy to older street children at the ashram's Amrita Institute of Technology (AICT). Chandravadan said that the District Administration would select the students and that the program would begin the ensuing academic year.
Finally, the district collector said that Amma had agreed to provide free heart surgeries for impoverished Hyderabad children suffering from congenital heart diseases at the Amrita Institute of Medical Science (AIMS) in Cochin. "We have around 323 children suffering from congenital heart diseases," Chandravadan said. "We know some of the corporate hospitals have gone back on their assurance and, although the government has taken up the initiative to perform free child heart surgeries, I had requested Amma to kindly sponsor a few of the cases in her super-specialty hospital in Kerala. She has agreed to do it free of cost."
Chandravadan concluded by saying that the Andhra Pradesh Government was grateful to Amma for all the service that she has provided in the state, referring to her as "a source of inspiration." He said, "The District Administration is willing to support in any manner for the laudable cause that Amma has taken on. We deem it an honour and privilege."
—Tulasi