27 January  — Chennai, Tamil Nadu – Bharata Yatra 2007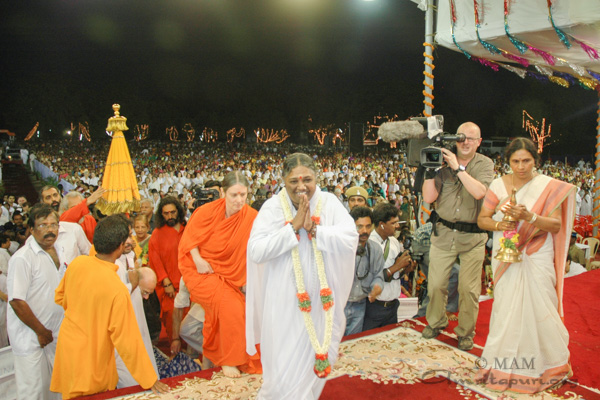 "Humanity does not always have this opportunity to see divinity in flesh and blood. We are most blessed to see divinity in a human form right in front of us," said the world-famous classical dancer Dr. Padma Subrahmaniam when welcoming Sri Mata Amritanandamyi Devi to Chennai. "Devotees come from all around the world to experience that unique motherly love that perhaps many of us don't even experience at home with our own mothers. She gives you a loving kiss and hug like your own mother gave you when you were perhaps one or two years old. Such vatsalya [motherly love] is rarely expressed. She radiates divinity. She radiates love."
More than 60,000 people came to Pachaiyappa's College Grounds in Shenoy Nagar in order to experience that love, an area only a few kilometres from Chennai's legendary Parthasarthi Temple and Mahabalipuram Temple. (This was the first of what would be two days of programs in Chennai for Amma. The second being on January 29th at Amma's Ashram in Vadapalani.)
The campus grounds where Amma gave darshan were surrounded by lush trees, which were strewn with lights, glowing white in the dark.
In fact, the program began a few hours before Amma's arrival, with a performance by Sitarist Shivaramakrishna Rao and veena virtuoso Rajesh Vaidya. The duo was accompanied by tabla, electronic drums, gatam and tavil. They played a fusion of Indian and Western music, including a powerful version of "Mahishasura Mardini Stotram."
Aside from Dr. Subrahmaniam, Amma was joined on the dais by Dr. Anbumani Ramadoss, the Honourable Union Minister of Health & Family Welfare; R. Velu, the Honourable Minister of State for Railways; and the Honourable Justice R. Balasubrahmanian.
amma distributing sewing machine
Minister Anbumani Ramadoss distributed checks to new enrolees in the Ashram's Amrita Nidhi pension program. The widows and handicapped that received their checks onstage were representative of 2,000 such Chennai residents who have recently been added to the program.
On behalf of the Ashram, Minister Velu helped distribute sewing machines and scissors to impoverished women who have learned tailoring but who lack the money to purchase a machine themselves. They were representative of 100 such women in Chennai.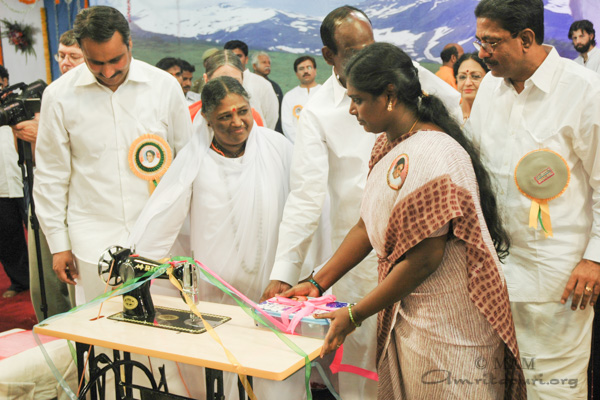 When he addressed the gathering, the minister expressed how even though this was his first meeting with Amma, she had already completely won him over with her irresistible warmth and love. "As soon as Amma looked at me, gave me a glance and a smile, I must say, I melted," he said. The minister praised the Ashram's humanitarian projects, saying, "Whenever man suffers due to natural calamities like earthquakes or tsunamis, Amma is there to lend a helping hand.  I asked Amma if She needed anything. Amma said 'no'. This is probably the first time that nothing was needed from me during a programme."
Minister Anbumani Ramadoss also lauded the Ashram's tsunami relief work. "Amma's help stood on par with that of the government," he said. "That is something tremendous. We shall always be thankful for that." He ended his speech by requesting Amma to help India in terms of AIDS awareness and female infanticide.
At 2:00 a.m, a large number of devotees were still waiting patiently for their turn in Amma's arms, for their taste of the her infinite motherly love.
—Tulasi