25 January — Tiruchirapalli, Tamil Nadu -Bharata Yatra 2007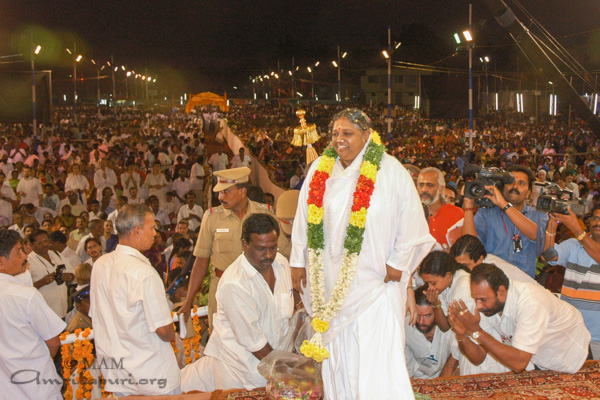 Tirchirapalli, or "Trichy," is an ancient city, rich in temples, culture and history. The holy Kaveri River flows through the city, and many Tamil Saints have done austerities and composed devotional songs here. Tonight, with the advent of Amma's first darshan in the city, yet another flower was added to the garland of the city's illustrious heritage.
The program was held at National College Grounds, only four kilometers from Sri Raganatha Swami Temple, one of the largest temple complexes in the world.
Amma was joined on the dais by Sri. K.N. Nehru, the Minister of Transport of Tamil Nadu, and Smt. Charubala, the city's mayor.
In his speech, K.N. Nehru said that the tsunami-relief houses constructed by Amma's Ashram are the best in Tamil Nadu. He also requested Amma to initiate charitable projects in Trichy, specifically mentioning the city's need for a hospital for the poor.
K.N. Nehru helped distribute pension checks to widows who have recently been enrolled in the Ashram's Amrita Nidhi pension program.
"Amma is living for others, and that is why she is able to hug everyone with lots of love," said Mayor Charubala. When the government takes up projects, it is out of a sense of duty. Amma is serving humanity out of love. It is only because of this that Amma is able to do such a large amount of service."
The mayor distributed 10 sewing machines to poor women in Trichy in order to help expand their financial horizons. These were representative of 100 such machines that the Ashram has given away in the city.
—Tulasi