23 April 2006 – Nerul, Navi Mumbai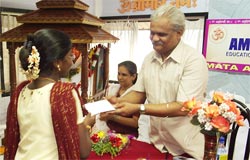 On 23 April, Amma's ashram (MAM) in Navi Mumbai started a program called "Amrita Tava Sevanam." Through the program, the Ashram has extended free computer training to 12 youths from Dharavi, a Mumbai slum. They will be educated at the Amrita Institute of Computer Technology (AICT) located on the grounds of the Navi Mumbai ashram.
The Ashram also distributed school bags and raincoats to 51 underprivileged students from Dharavi.
Panduranga R. Pawar, the chief educational officer of the Navi Mumbai Municipal Corporation, addressed the gathering. After lauding the social and humanitarian activities of the Ashram, he said, "Those students availing assistance from the Ashram should do their studies well, and upon settling in their life, they should also support other children who need educational help."
-Dass