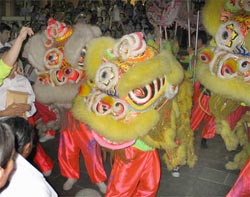 18 – 20 April 2006 — Singapore
Amma's Singapore programs were held on April 18 – 20 at the Teo Chew Building in Singapore.
On the first night, Mr. Ravindran, Member of Parliament, Marine Parade GRC, garlanded Amma and addressed the gathered crowd. "It is indeed a privilege to have Amma here with us, who has made all these [charitable activities] possible all over the world and will continue to share a message of love, humility, and care for each and everyone on earth," he said. Also present was Senator Jamby from the Philippines.
The next morning, students from Amrita Balachandra School performed for Amma during her darshan.
On the second night of programs, Amma was greeted outside the hall by traditional Chinese Lion dancers who performed to the delight of Amma and all those present.
During the last day, the Amriteshwari Society of Singapore held a blood drive. Donors listened to bhajans and watched darshan on a large screen while trained technicians collected more than 100 pints of blood. The Amriteshwari Society has been running such blood drives for the past 10 years during Amma's visits.
–Tulasi