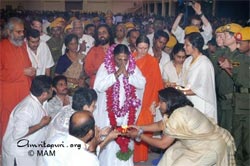 22-23 April 2006 – Kuala Lumpur, Malaysia
Amma's Malaysia programs were held on April 22-23 at the Mines International Exhibition & Convention Center in Kuala Lumpur, Malaysia. Over 50,000 people attended the two days of programs. As Amma entered the hall for the first evening program, she was greeted by a troupe of traditional Chinese Lion dancers.
Chief Minister of Penang, Tan Sri Datuk Dr. Koh Tzu Koon welcomed Amma to Malaysia and extended a special invitation to visit the state of Penang.
The first program ended at 11am the next morning. Over 27,000 people received darshan.
Just prior to the start of the second evening programs, heavy rains fell. A huge rainbow stretched across the sky minutes before Amma's car drove up to the entrance. The last evening programme ended at 8.a.m the next morning.
Thus ended almost three months of continuous travel which started back on Feb. 3rd in Thalassery on the North Indian Tour. This was one of the longest stretches of time Amma has been away from the Ashram.
—Tulasi