Amrita Sanjeevani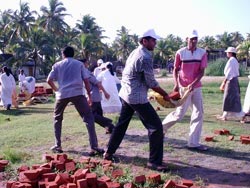 On August 15, 2005, when all of India was celebrating the 58th anniversary of her independence, the students of Amrita University were celebrating the joy of selfless service. The students at the Amritapuri campus formed the Amrita Sanjeevani, a new student seva association. The students and staff of the University will take a more active role in participating in the Ashram tsunami relief work as well as other ongoing seva projects lead by the ashram.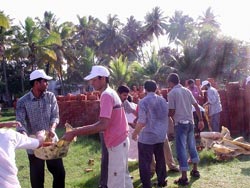 The students have actually been helping since day one of the Tsunami relief work. About one week before their official formation, large groups of students and university staff headed to Azhikkal, one of the worst hit areas by the tsunami. There, they worked for several hours under the hot sun, moving bricks.
Students of the University participating in carrying bricks to the construction site.
–KaliCharan