28 Jan, Nellai, Tamil Nadu, Bharata Yatra 2008
Amma held her first public program in the city of Tirunelveli, in southern Tamil Nadu. This district is well-known for its diverse landscapes; it contains everything from deserts, forests, rivers, mountains, to sea coasts. The name 'Tiru-nel-veli' means 'sacred fenced paddy.' One of the ancient stories is that a devotee of Shiva was starving, living off of mere paddy that he begged. When he went to offer his worship to the Sun, praying for rain, a massive downpour ensued. However, the paddy that he laid down didn't become wet. Thus came the name 'Tiru-nel-veli.' In Tamil this place is known as Nellai.
The welcome address of the program was given by Swami Shankarananda of the Ramakrishna Tapovanam in Tiruchi. The mayor of Tirunelveli, Mr. A. L. Subramaniam, and member of parliament Thanushkodi Adityan gave speeches about Amma's humanitarian activities. Sewing machines were distributed to ten impoverished villagers from the area.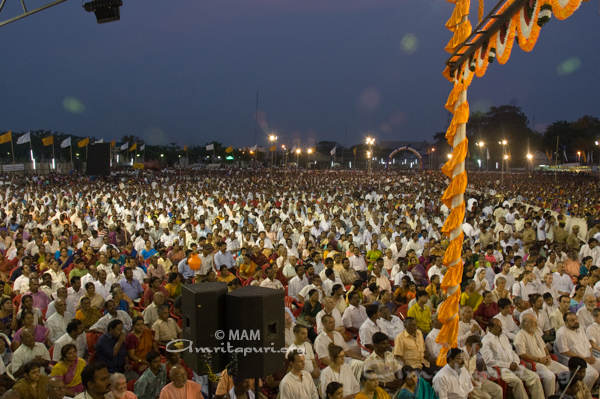 There was a massive crowd to see Amma. Many people met Amma for the very first time. When asked how she came to see Amma, Sheri, a high school student, said, ´people said that if one has any kind of hurt feelings or physical ailments, one should see Amma to find relief. I was praying for a long time. After darshan, I feel much better, and am happy with the darshan.´
Ganapathy, a police officer, related how he came to see Amma at the program. 'I had finished my shift at Palayamkotta, at some distance from the program, at 1 o'clock. I was on my way to the bus stop, when I stopped a man on a motorcycle to get a ride. I asked him, 'where are you going?' He said, 'I'm going to see Amma.' I said, 'Won't Amma be finished by now?' He said, 'no, Amma gives darshan for a long time.'
'So I decided to go with him and try to see Amma. When I had Amma's darshan, I felt like I was coming to God. Amma said in my ear, 'my dear child.'
Another man, Maniyappan, a transport officer, met Amma for the first time. He said, 'each and every word of Amma´s is purifying to our mind. As human beings, we should all follow each of Amma's words and actions. Amma's words help to expand our minds.'
Other distinguished guests included M.L.A. Mr. N. Malai Raja, Mr. M.N. Manjanatha I.P.S., District Judge Justice Bhaskaran, Nellai District Police Joint Commisioner Dr. Dhinkaran, and Nellai District Police Joint Commissioner Mr. T. Jayachandran.
After a long darshan, Amma will travel to the last stop of this leg of Bharata Yatra, which is Trivandrum.
– Sanjaya