25 May 2010 — Buffalo, New York
The State University of New York (SUNY) presented Amma with an honorary doctorate in humane letters at a special ceremony held on May 25 at Lippes Concert Hall in Slee Hall on the University at Buffalo North Campus.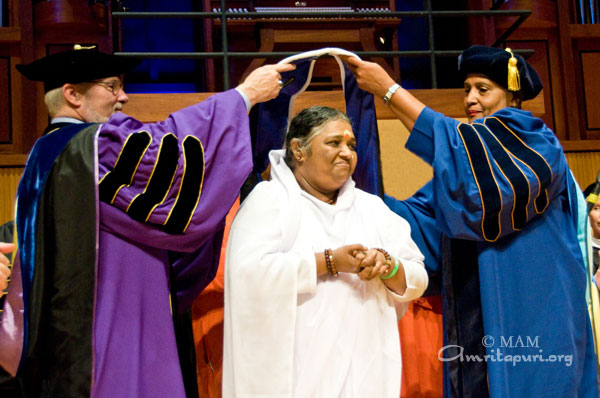 Dr. John B. Simpson, the President of State University of New York at Buffalo, addressed the gathering, which included a mix of SUNY Buffalo faculty and students, as well as faculties from Amrita University.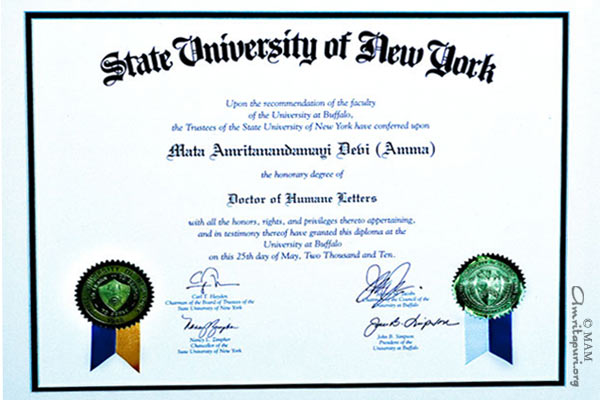 "Through this conferral, we pay tribute to the far-reaching contributions of a distinguished educational leader, prominent humanitarian and esteemed spiritual leader. Through her leadership of Amrita University as well as through her humanitarian work, Chancellor Amma exemplifies the value of international dialogue and dedicated public service in the global arena. These are values at the core of the University at Buffalo's mission as an internationalized public university seeking to prepare our students to contribute meaningfully to the global world," he said.
Just prior to the actual conferral of the degree, President Simpson said, "In great appreciation of [Amma's] extraordinary humanitarian service and commitment to expanding educational opportunities and international cooperation throughout the world, the University at Buffalo is privileged to confer upon her the State University of New York Honorary Doctorate in Humane Letters. State University of New York honorary degrees—proposed by our campus and approved by the State University Board of Trustees—represent the highest form of recognition accorded by the State University. These degrees are conferred upon individuals of exceptional distinction, whose achievements and contributions serve as inspiring examples to the university's students."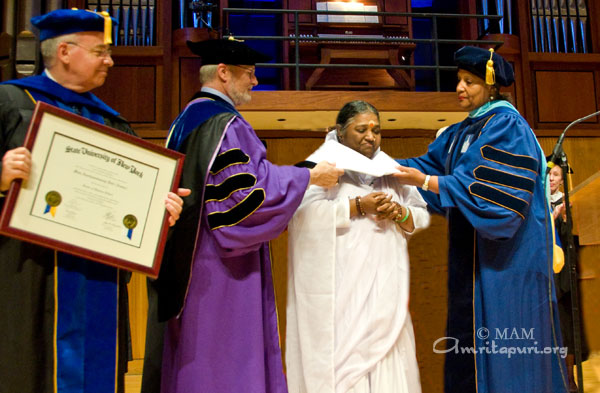 SUNY Trustee Eunice Lewin then said, "By virtue of the authority vested in me, the faculty of the State University of New York concurring, I confer upon Chancellor [of Amrita University] Mata Amritanandamayi Devi the degree, Doctor of Humane Letters, Honoris Causa.  In token thereof, I hand you this diploma and hood appropriate to the degree."
President Simpson and SUNY Lewin then placed the ceremonial cowl over Amma's shoulders to thunderous applause. Amma is the first Indian to receive this honour.
Amma then delivered an address on education, in which she discussed the importance of including universal spiritual values in core curricula, the role of meditation in developing and gaining control over the mind, and the complimentary relationship of scientific knowledge and spiritual wisdom, among other topics.
photo by Nancy J. Parisi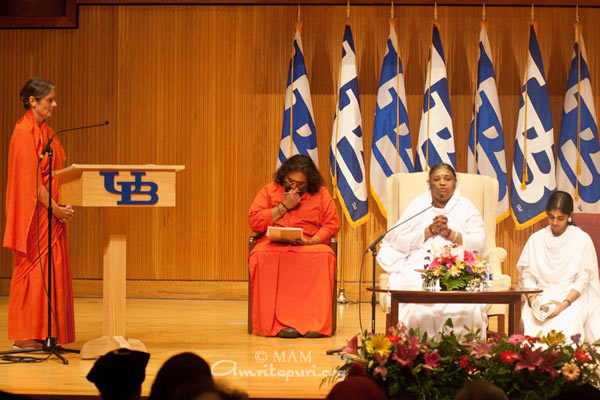 Amma said, "It is Amma's prayer that we develop the expansive-mindedness to embrace both scientific knowledge and spiritual wisdom. We can no longer afford to see these two streams of knowledge as flowing in opposite directions. In truth, they compliment one another. If we merge these streams, we will find that we are able to create a mighty river—a river whose waters can remove suffering and spread life to all of humanity.
Other dignitaries to address the gathering included Dr. Satish K. Tripathi, Provost of University at Buffalo, and Dr. Stephen Dunnett, University at Buffalo, Vice-Provost for International Education.
"Because of Chancellor Amma's vision, thoughtful leadership and commitment to academic excellence, the University at Buffalo and Amrita University faculty and students have benefitted from an ambitious educational and research partnership," said UB Provost Satish K. Tripathi.
"As the UB/Amrita partnership has grown, I know it has been largely due to Amma's behind-the-scenes role in nurturing and encouraging our institutional relationship. From the beginning, she has seen the potential of this partnership for the benefit of our respective universities and our faculty and students.
"Moreover, in these challenging times, it is heartening to know that our students' worldview and life approach are expanded and enriched through their appreciation of the transformational impact of global humanitarian work which is modeled exquisitely by Chancellor Amma."
The ceremony was exquisitely arranged with performances of both classical music both from India and the West, including organ performances by University at Buffalo faculty Roland E. Martin and students of the Natya School of Indican Classical Dance in Buffalo, directed by Tejaswini Rao.
-Kannadi