25 May 2010
Buffalo, New York
The State University of New York (SUNY) presented spiritual leader and humanitarian Sri Mata Amritanandamayi Devi (Amma) with an honorary doctorate in humane letters at a special ceremony held at 2 p.m. on May 25 at Lippes Concert Hall in Slee Hall on the University at Buffalo North Campus.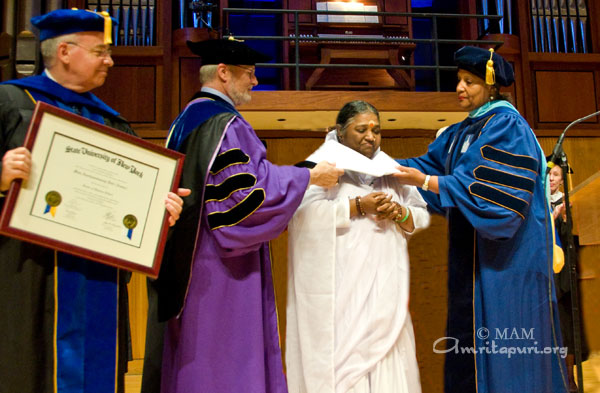 SUNY bestowed the doctorate upon Amma in recognition of her tireless efforts on behalf of global peace, for her commitment to education and for the far-reaching impact of her charitable organizations in relieving poverty and human suffering in India and around the world.
Addressing the gathering, President Dr. John B. Simpson, the President of the University at Buffalo (State University of New York), said, "Through this conferral, we pay tribute to the far-reaching contributions of a distinguished educational leader, prominent humanitarian and esteemed spiritual leader. Through her leadership of Amrita University as well as through her humanitarian work, Chancellor Amma exemplifies the value of international dialogue and dedicated public service in the global arena. These are values at the core of the University at Buffalo's mission as an internationalized public university seeking to prepare our students to contribute meaningfully to the global world."
As part of the award ceremony, Amma delivered an address on education, in which she discussed the importance of including universal spiritual values in core curricula, the role of meditation in developing and gaining control over the mind, and the complimentary relationship of scientific knowledge and spiritual wisdom, among other topics.
Amma said, "It is Amma's prayer that we develop the expansive-mindedness to embrace both scientific knowledge and spiritual wisdom. We can no longer afford to see these two streams of knowledge as flowing in opposite directions. In truth, they compliment one another. If we merge these streams, we will find that we are able to create a mighty river—a river whose waters can remove suffering and spread life to all of humanity."
Other dignitaries to address the gathering included Dr. Satish K. Tripathi, Provost of University at Buffalo, and Dr. Stephen Dunnett, University at Buffalo, Vice-Provost for International Education.
SUNY is a renowned public university with 64 campuses across the state of New York. Its four main centers are in Albany, Binghamton, Buffalo and Stonybrook. Its total student body is 440,000 students.
Others receiving honorary doctorates from SUNY this year include MapQuest founder Barry Glick, pioneering AIDS/HIV- researcher Dr. Robert Vince, and Pulitzer Prize-winning composer Steve Reich.