October 4, 2006, 4:45 am, Amritapuri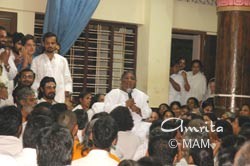 3:30 a.m.: The bell rings for archana, a little earlier than usual. Some ashram residents haven't slept, as they have been helping out with last-minute packing for the tour. The other sleepyheads were keeping awake in anticipation of Amma's early-morning departure to the airport to fly abroad.
4:45 a.m.: The bell rings thrice, a clear indication that Amma is coming out.
The morning archana is just over, but not the mahishasura mardhini stotram. The boys postpone the stotram. The girls zip through it at super-fast speed. Everyone gathers around Amma's car. All eyes are on the steps leading to Amma's room, anticipating her arrival.
Suddenly, a message arrives. Amma is calling everyone to the temple.
O my God! We run into the temple. As the steps of the spiral staircase are narrow, many take the other ways to the hall. Why did Amma go to the hall? What is she going to do? A thousand questions.
Amma is sitting on her wooden cot, like she usually does on Tuesdays. Surprise, surprise! She asks for a mike. She is going to talk… no, she is going to conduct a meeting! How could it be? She had spent so much time with us at the swimming pool the evening before, pushing us into the water, joking with us, singing and sharing stories from her childhood. She could have held the meeting yesterday. Why now?
This is what makes Amma unique, inimitable, more beautiful and wonderful than anything in the world—her spontaneity.
Amma starts inquiring about the housing projects and the status of the tsunami-related works in Tamil Nadu and the Andaman & Nicobar Islands. She poses a variety of questions: Should the timber be procured from Kerala, Tamil Nadu or Kolkata? Isn't it more economical to make windows and doors here and then transport them to Chennai by truck, to be then shipped to the Andamans? Anyway the timber should come from Kerala.* Suppose a truck can carry 10 tons, how many finished doors and windows can be transported in one truck? Are there any additional transportation costs involved? She tells a brahmachari to check out the timber prices and labour rates in Tamil Nadu and Kolkata.
Amma asks whether the electrical-wiring work in the new houses is finished. She finds out that it isn't. She entrusts the work to a brahmachari.
She tells another brahmachari to talk to government officials in Tamil Nadu where, in some areas, land hasn't been identified by the government for the tsunami houses it wants the ashram to build.
Amma then turns her attention to the Amrita Vidyalayam schools. The increasing number of new admissions means a whole lot of work to be done in a short period. It means more classrooms, more labs, etc in each school. Also, there is maintenance work in the old buildings and construction work in the new ones… in Perumbavoor, Trivandrum, Kolkata, Bombay, Hyderabad, Tiruvalla… Amma summoned the brahmacharinis in charge to confirm what needed to be done by the end of the year. Do what needs to be done now, and postpone the less pressing works, she said. Amma also assigned brahmacharis to take charge of the construction work in about 30 schools.
The printing press received her attention next, and after that, the Ayurveda section. Amma also spoke to the brahmacharis and brahmacharinis translating ashram publications; to those going to hold satsangs outside of Kerala; and to those teaching and/or working at our schools and colleges. Amma also delegated some brahmacharis to work in newly set-up branch ashrams.
Amma insisted that everyone should attend the Bhagavad Gita class, and that this should not affect the regular work they do in the ashram or school. If necessary, they should work extra hours in the evening to make up for any lag in the work.
Amma didn't forget to give some motherly scolding to some brahmacharis for the mistakes they had made in their seva. She reminded them that work done without shraddha [attentiveness] is adharma [unrighteous].
Just when everyone thought that the meeting was about to end, Amma asked, 'Who doesn't have any work?' Everyone smiled. A few nervously stood up. Amma gently advised them to help whenever and wherever work needs to be done urgently.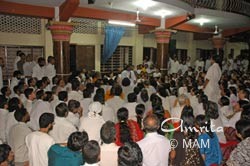 What one sees in Amma is the manifestation of outstanding managerial skills: resource management, quick decision making, fund management, HR administration, time management, productivity, superb communication skills, and more than anything else, the ability to harness all of them to a common goal: loka sevanam [service of humanity].
Those who were expecting Amma to talk about 'spiritual' matters during those early hours would have been surprised—she seemed to be talking about worldly matters. But for Amma, there is nothing worldly. Nothing is mithya [unreal]. As far as Amma is concerned, 'Ishavaasyamidam sarvam' ['Everything is divine, real'].
Before leaving, Amma sang 'Mukunda murari gopala.' It was a bitter-sweet moment: there was so much joy being with Amma, and yet, everyone felt sad, thinking that Amma was about to leave. Before getting up, Amma asked all her children to bless her two-month tour of Europe and the U.S.
The ashram residents lined up on one side: the side where Amma sat in the car. Everyone stood with palms joined together prayerfully: in devotion to Amma and with prayers.
What a great fortune and blessing it is to have such a Mother and Guru!
—Sakshi