On 17 March, 2010, Cologne, Germany
The National Committee of the UN-Decade "Education for Sustainable Development" awarded M.A. Center Germany as an official UNESCO Decade Project.
The award is given to institutions and communities that provide a positive example to the local community by operating according to the principles of sustainable living.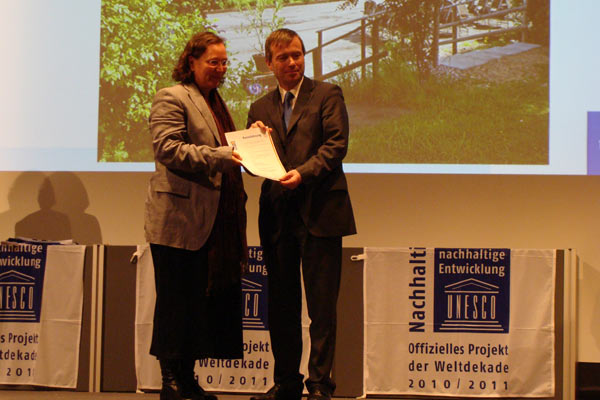 M.A.Center Germany received the award for its holistic approach to sustainability in all areas of life.
The centre uses primarily organic and regional foods, and further seeks self-sufficiency in the use of energy and water. Cisterns are already in use and other eco-friendly technologies like photovoltaic, solar-heating and wood-chip-heating systems are scheduled.
For the conversion and construction of buildings, ecological materials are used and the principles of a passive house are implemented, which means that due to advanced insulation no additional heating is required, even during the cold winters.
The centre offers retreats on conscious living, meditation, organic cultivation of vegetable and herbs as well as yoga and art workshops.
Since 2006, the centre has been organizing Youth Retreats to convey the principles of sustainability to the younger generation. These retreats are sponsored by the European Union's "Youth in Action" program.
During the award ceremony, Prof. Gerhard de Haan, chairman of the National Committee for the Implementation of the UN Decade in Germany said: "The Decade projects do good work. They impart knowledge and skills of sustainable development to our society; teach the idea of sustainability to a larger range of people."
The UN Decade on Education of Sustainable Development is an international education initiative. The states of the United Nations have committed themselves to learn in the years 2005 to 2014 the concept of "sustainability". The German Commission of the UNESCO coordinates the activities of the UN Decade in Germany together with the Federal Ministry of Education.
– Dev