15 April, Amritapuri – Vishu Celebrations
This year's theme of Vishu was "Tharuvum Thanalum -Tree and Shade. Accordingly the large Vishukkani set up just below the stage in the main hall was surrounded by hundreds of saplings.
Amma started the day's program by taking in the grand Vishukkani and offering flower petals to the arrangement and the saplings.
After arriving to the stage Amma led everyone in meditation and a prayer for world peace. In her Vishu message that followed, Amma asked everyone to take responsibility and not to lose their connection with nature.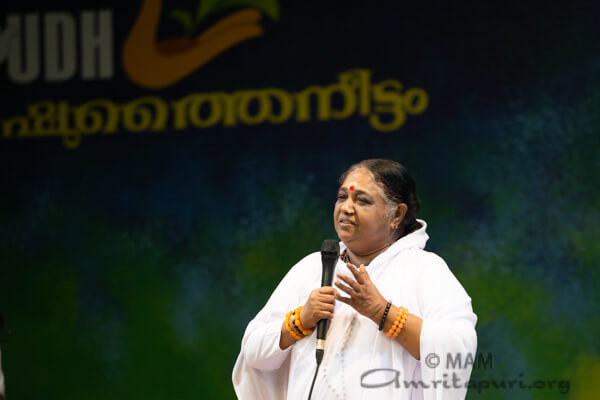 She said: "Vishu conveys the message of the unbreakable interconnection between man, nature and God.
"The festival of Vishu and the underlying principle of Vishnu are the same. The term "vishnu" refers to the all-pervading consciousness within everything in the universe. In the same way, Vishu represents the God-principle in all, which is true and noble, beautiful and auspicious.
"A transformation should happen in man's mind and ideology, in his perspective and actions. We should learn to see the unity that underlies everything. We should be able to live in harmony with the True Self, nature and God. Only then will there be peace and happiness. Only then will we be able to perceive auspiciousness all around us. This is the principal message of Vishu.
"The word vishu means "equal." Vishu is the day on which day and night are equal. This signifies accepting both comfort and hardships in life equally.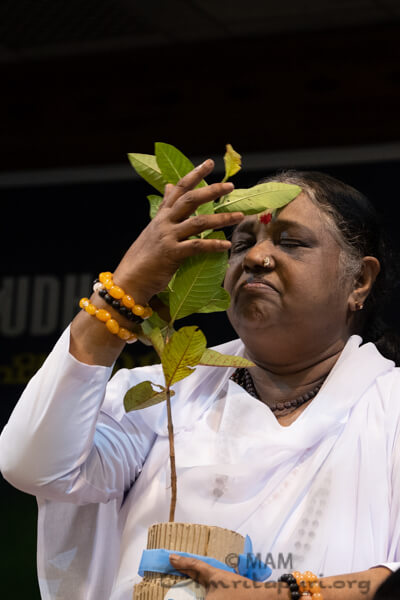 "May the festival of Vishu help us to feel compassion for all living beings and live a life that sets God above everything else. Festivals are like beautifully wrapped gifts. No matter how colorful and beautiful the gift wrap is, what is most important is the gift inside. In the same way, more important than the rituals and observances of Vishu are the values and habits it is trying to inculcate within us. May this Vishu help us develop a deeper bond with nature, God and our fellow human beings. May my children be able to do this."
After sharing her message, Amma sang a few bhajans and distributed lunch prasad to all.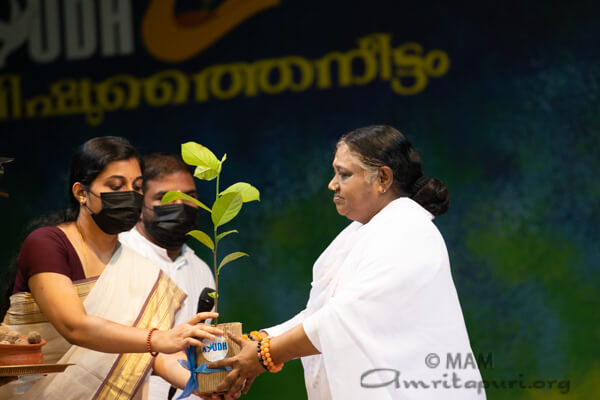 Before serving lunch, Amma distributed fruit bearing saplings and seed balls to devotees. She also reiterated the need to keep a pot of water outside our window for birds to drink in the summer.
It is customary to give some money to one's elders on this day of Vishu. But eight years ago Amma suggested offering a sapling along with it, calling it Vishuthaineettam. Now it has become like a movement and many AYUDH branches and devotees now annually mark this occasion by distributing saplings across Kerala.
May all Amma's children be able to imbibe the spirit of Vishu and live in harmony with nature.
-Kannadi