7-8 Feb, Thiruvananthapuram, Kerala – Bharata Yatra 2020
Amma arrived at her Ashram in Thiruvanathapuram and was received by devotees who offered Poornambukam and chanted "Mata Rani Ki, Jai!" Walking up the stairs to the balcony, Amma glanced around at all her children who were gathered in the Ashram to get a glimpse of their beloved. From there, she lovingly showered flower petals down onto the crowd.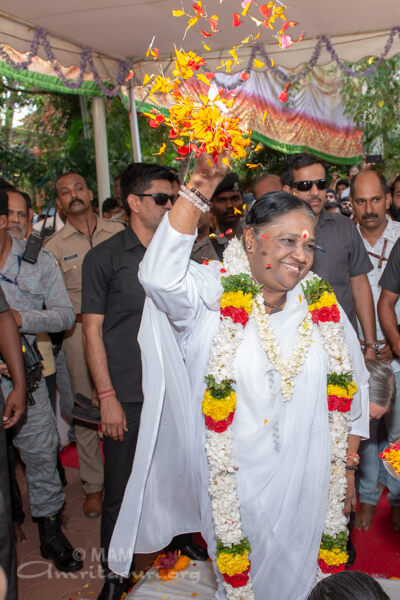 Amma held two days of programs. In one of the ceremonies, Amma gave away saris and working capital to AmritaSREE members. Amrita Vidyalayam children also presented different cultural programs.
While addressing the devotees, Amma urged her devotees to never waste an opportunity to serve. "The entire world looks up to those who have the heart to do selfless service. May the flowers of innocence and selfless service remain in your lives without fading. We truly begin to grow when we give more than we take from the world. In fact, we receive what we give selflesslessly. We should strive to see divinity in all living beings and love and serve them as God," she said.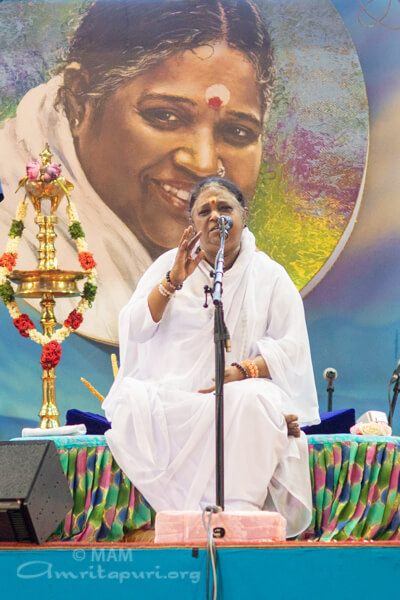 Many dignitaries came for Amma's darshan, including renowned artists and political officials.
Shri Santosh, Deputy Inspector General, Kerala Prisons, attended the programs and spoke about how much difference the yoga classes being conducted by Amma's Ashram at prisons throughout Kerala were making. "I had reached out to Amma to help those in prison, and with Amma's blessings, the Mata Amritanandamayi Math is teaching yoga to prisoners and officers. Amma is giving something fully to the prisoners that India has given to the world. Today, prisoners in 55 jails are receiving the benefits of the 10- and 5-day classes. Over 2000 jail officers have also participated. I have been working in the jail system for the past 30 years and this year has been the most blessed one. Because of these programs, I was awarded the President's Seva Award."
After the programs, Amma was invited by the Governor of Kerala, Arif Mohammad Khan, to visit his official residence. Amma spent more than one hour with the Governor and his wife. With this stop in the capital of Kerala, the first leg of Amma's 2020 Bharata Yatra concluded.
-Tulasi