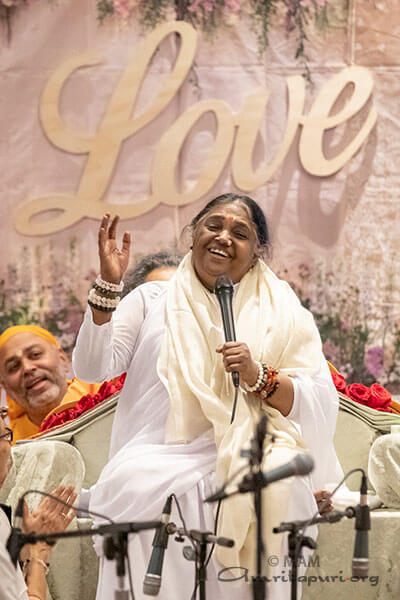 27-30 Nov, Detroit, Michigan – America Yatra 2019
One simple word adorned the backdrop of the stage in the hall – "Love". It was in front of this word that Amma gave satsang, sang bhajans, and hugged all who had come to attend the public program, Retreat, and Devi Bhava in the Marriott Hotel at the Renaissance Center, Detroit, Michigan, USA.
It was Thanksgiving break and thousands of people from all over the US had traveled to Michigan through inclement weather including strong winds, snow, and rain to spend the holiday with our beloved Amma.
Michigan State Senator Jim Runestat and Michigan State Representatives Ms. Christine Greig and Ms. Padma Kuppa attended one of the programs.
Senator Jim Runestad first spoke: "Namaste. I can't tell you how phenomenal I feel. I have heard a number of prayers in my life and I have never felt so impactful a prayer. Hearing about Amma's background and history – what an amazing individual she is! To make a difference in the lives of all these suffering people around the globe and put that into action to the point where she stays up over 24 a day hugging people to make a difference in their lives."
Michigan State Representative Christine Greig followed: " What a great honor to be here and to meet you and to feel the warmth and the love from your hug. Thank you so much. What we have heard today and felt today is the very basic strength and power of love and divine grace, and that can solve a lot of problems."
Michigan State Representative Padma Kuppa addressed Amma and the crowd: "Namaste. It is a honor to be here in the presence of such an amazing leader as Amma with all of you with her ideals that inspire all of us to selfless service and to care for those in need. Amma comes from my punya bhumi, from my janma bhumi, to this, our karma bhumi. For many of us who are immigrants, she leads us and gives us that inspiration to continue to build peace, to take the concepts of Ekam sat vipra bahudha vadanti ("Truth is one; sages call it by various names" – Rig Veda), and the idea of Vasudhaiva Kutumbakam – that all of us are one family, and to have that feeling here in this room today, I am humbled and I am grateful for her embrace, that she embraces the world to a better place. Thank you."
Amma also received a letter from the The Honorable Governor of Michigan, Gretchen Whitmer. "On behalf of the state of Michigan, it is my utmost honor and gratitude to welcome you to our great state… What started as your vision to spread the message of love and service is now inspiring thousands of people across the world and making a positive difference in the communities you serve…Your work has ensured the health and well-being of countless people in need and have opened valuable doors of opportunity for them…"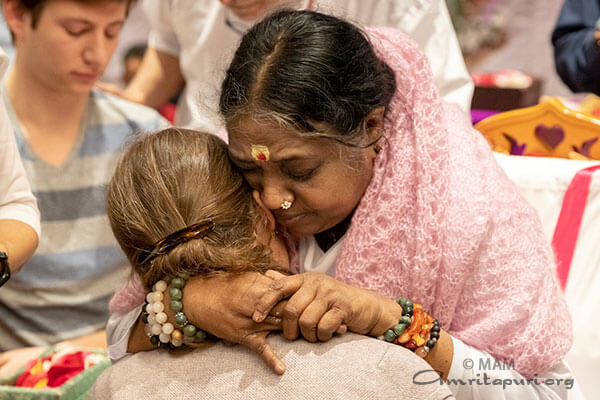 Speaking on the occassion Amma said: Gratitude is the ability to reminisce about all the support and help we have received, with an attitude of humility. It is a state of mind. When we lovingly recognize the goodness in another person, this helps to awaken the goodness in ourselves. When we look back at our life with this attitude, we will realize that we owe so much to thousands of people. It would take lifetimes to pay back these debts, especially towards nature and above all, to God. In fact, gratitude benefits us more than anyone else. The positivity and goodness that awakens within as a result of being #grateful in turn benefits society and the entire world."
Amma touched upon some beautiful points about cultivating inner strength. "Children, never lose your self-confidence. It is like a booster rocket. It helps us break free from the bondage and impurities of the mind and allows us to soar to the heights of spirituality. It is like fuel giving us the power to forge ahead. We have nothing to lose by trusting the infinite power of the Self, except the bondage of our own ignorance."
During the second night of the Retreat, there were many cultural performances including traditional Indian dances by devotees of all ages. Local devotees entertained everyone with a play depicting the Devi Mahatmyam where Devi slayed various demons in epic battles. Two talented children from the Chicago Ashram then led everyone in rapping "Inner Peace through World Peace, World Peace through Inner Peace."
The last night was Devi Bhava which included a prayer for world peace. Amma gave darshan through the night and finished mid morning. Just before departing the stage, Amma again asked everyone to clap their hands and laugh like an innocent three-year-old which lit joyous smiles on their faces.